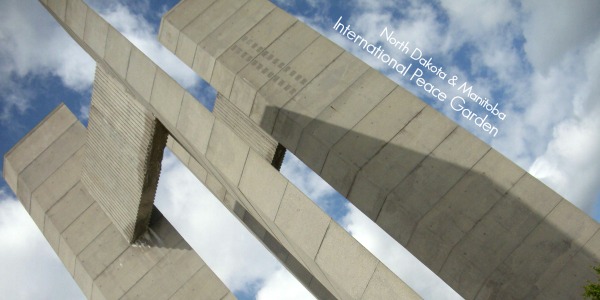 International Peace Garden, ND – Throwback Thursday
The other day my prized "Why Not Minot" shot glass, a funny parody of the North Dakota city sold to me be the Minot Scandinavian center, broke in a tragic cleaning accident.
I doubt the shot glass in still available in the Minot Scandinavian center, of which my mind has concocted a story of a witty scandinavian making (in good humor) the shot glass only to be lectured by the Minot chamber of commerce about the fragile image of the city, thus making this a very rare find. But I still have my memories! Plus, I probably could (and will) get someone on Etsy to make a custom reprint.
Anyhow, in honor of the wounded shot glass I am dedicating this Throwback Thursday blog posts to one of the adventures I had wile living in Minot – visiting the International Peace Garden.
 International Peace Garden, North Dakota & Manitoba
Directions: I took a round about way to the gardens from Minot to the Garden in order to drive through a spot called "Mystical Horizons" (Click through for another ThrowbackThursday gem). You do have to go through your own country's customs to get to the entrance, which in theory means you don't need a passport? I brought mine anyhow, which was fun. Map
Visiting the Gardens the main attraction in the maintained rose gardens and statue/memorial walk that traverses the dividing line between The United States and Canada. There is a statue constructed with world trade center remains, peace poles (the first time I had seen this in real life outside of a girl scout book, what is up with Girl Scouts and Peace Poles?), and the tallest thing around – a four column sculpture called the Peace Tower.
The main garden is interesting both as a garden, and in a study of what this part of Manitoba and North Dakota views as important enough to allow into this limited space. These important things apparently being: maintained lawns,  open spaces, and a few community funded pieces.
After scouting the the formal garden I wanted to spend as much time in Canada as possible (America is so everyday) so I took off to the "North American Game Warden Museum" and walked along one of the few paths. Nothing to write home about, but I WAS IN CANADA!
Apparently I did not take many pictures, or they were all lost at one point when my computer crashed. A selected few that have survived are below.