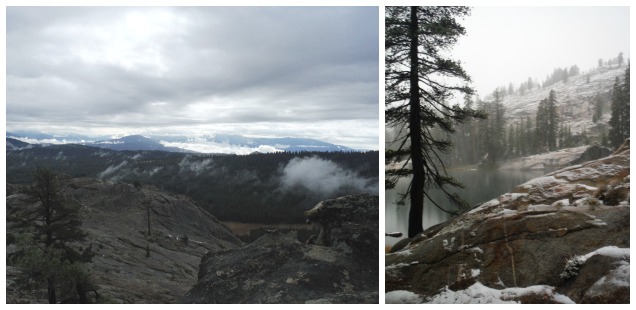 Jackass Lake, Ansel Adams Wilderness: A Tiny Backpacking Trip that Packs in Alot of Character
This is my obligatory exclamation of: What happened to this summer?! I had alot of adventures and day hikes (many of which are still in the blogging to-do queue) but not any backpacking trips. One minute I am kicking off spring with a snowy backpacking trip into Yosemite, then the next we are saying goodbye to fall with another venture into the winter wonderland.
Following up with an trip idea I have had since 2013, I reserved a permit for Curtis and I to travel up from Chiquito Pass into Chain Lakes on the far Southeastern border of Yosemite National Park. I thought, given the trouble I had previously in accessing the Quartz Mountain trailhead, it should relatively smooth sailing getting in from the Chiquito Lake trailhead. And given our 2014 experience trying to hike/find a camping spot during hunting season this trip would quickly drop us inside of the park boundary, where hunting in prohibited.
Then it rained. It rained hard over that "Passenger Car Not Recommended" trailhead access road.
Sure some nice hunters may have pulled out our small sedan with their 4WD pickups if we got really stuck, but we didn't want to have that happen. Not to mention with the possibility of snow at the higher elevations, maybe a "short" 14 mile trip was a bit ambitious.
So we made plan B, in which we followed the limited map given on a Sierra Yosemite Tourism magazine for a leisurely drive to see this feature called 'The Balls' on the Scenic Byway. True story, there are so many terrible jokes you can make about a mountain named 'The Balls'.
And then I saw it, a short 3 mile trail, straight up 'The Balls' into the Ansel Adams Wilderness to Jackass Lake . [As an aside: I could only imagine being a girlscout troop leader trying to propose a trip here… who names the places? Yeah, I'm looking at you pioneers.] So, Despite the rain and the cold and the nearly inevitable sleet and thunder snow during that night Curtis agreed, if only so he could make the ultimate terrible, terrible joke about 'The Balls'
Backpacking to Jackass Lake, Ansel Adams Wilderness, Sierra National Forest.
Trialhead: From Rd 274 by Bass Lake, turn onto Beasore Road. This long windy road is nicely paved until Globe Rock at 20-ish miles into the drive, then turns into a "Dirt road" (really the Forest service is letting the old paved road die a long slow natural death). This can be a pretty slow crawl for passenger cars, but do-able. The Jackass Lake Trailhead is located 26 miles from the start of Beasore road. Map
Distance: 6.6 miles round trip & about 1900 ft elevation gain – a true tiny backpacking trip. The trail itself is steepest for the first 1.5 miles, less so after that. Could be an enjoyable day hike as well.
We started out from the trailhead during a lull in the storm, but soon a persistent rain started. The rain is not very kind to the steep first portion of this trial, resulting in quite a bit of erosion and some gullies beginning to form. Actually most of the trail become bit like a river during the rain. It was a good day to be wearing boots instead of trail runners.
During our hike in a thick fog obscured most of our view – but on the next morning's return trip the clouds lifted just outside of the wilderness boundary, allowing views of the surrounding mountains. This is only my 3rd(?) time venturing into this part of the Sierra National Forest, and the mountains here seem to wrap around the area oddly – North, West, and South depending on where your vantage point is. We scrambled up the granite dome, one of 'The Balls', on our way back for some really nice ciews
Due to the threatening thunder we choose to stay at the lower (and larger) Jackass Lake in order to find the safest spot to camp. The most primo looking spots at Lower Jackass all appear to be on a ridge or quarantined off for restoration, but we eventually found a nice little place to set up camp on the Northern shore of the lake. Time to settle in for a long rainy/hailing/sleeting/snowy thunder storming night. Luckily I brought along the latest issues of Backpackers winter gear guide to plot my winter camping tent purchase as water slowly soaked the tent and formed heavy hail collections above us during our sleep.
Wet Weather Tip: Magazines are the best wet season reading material because it doesn't seem like such a shame to recycle them after they have become drenched sometime during the night
Backpacking during these types of shoulder season storms aren't for everyone – but there is nothing quite like waking up to a winter wonderland. And with a short hike back out to the warm car it really did turn out to be a pleasant trip. Who needs to have a proper summer backpacking trip when there are 3 other season to explore in?
More photos below: