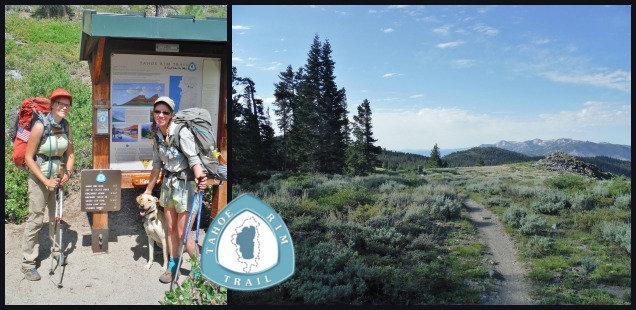 Kingsbury North & the Finish of Thru-Hiking the Tahoe Rim Trial – Day 12
Beginning June 25, 2014 I thru-hiked the Tahoe Rim Trail (TRT), circling Lake Tahoe in 12 days. Accompanied by my friend and fellow blogger, Trails, we bravely took on this 165+ mile loop. Here you will find a day-by-day rundown of each day's hike, night's campsite, and my contemplations while beating down miles. Check out my complete trip report for the TRT here – This is day 12.
And at 8:30 am I started walking the final 7 miles back to the car we had abandoned 12 days prior. In this final stretch of trail I began daydreaming about lunch, beer, and my beautiful bed. It is exciting to finish a backpacking trip and return to the wonders of a normal meal, if not a little sad to be leaving this amazing place I  had grown accustomed to. True story: at some point over the past 12 days (and let it be known it was not day 1) I had grown accustomed to the aches, the mid morning snack break, the push up switchback after switchback, and the grandiosity of an omnipresent Tahoe vista.
At first I had a difficult time beginning to write up my 12 day trip report of thru-hiking the TRT. I had taken journal notes everyday planning for what I was going to write, but I knew I would never do this hike any justice. I didn't want to cheapen my experience by writing a bunch of crap blog posts. I am no John Muir, and neither do I try to be… but since he isn't around to wax poetically about the TRT I guess you suckers are stuck with this stuff instead? (Haha, jokes on you!) I wonder what he would have said about the hike, should he be traveled in time to the modern TRT?
Did you know Muir had proposed a Lake Tahoe National Park? Partnering with tourism and railroad entrepreneurs Muir attempted to make the Lake Tahoe National Park to fight the unrestricted logging happening around the lake.  This proposal did not fly with property owners around the lake, and strangely included a water storage proposal that strained public opinion of the measure even further. Information on the proposed Lake Tahoe National Park is murky topic to Google search, perhaps because large swaths of Lake Tahoe ended up under the management of the Forest Service which accomplishes a similar vision to Muir's proposed park. The Tahoe Lakes Basin now works to balance conflicting tourism and preservation interests without the national park designation, aided by state parks and non-profit organizations.
I am going go out a limb here, but… I postulate that the Tahoe Rim Trail just might be the modern day realization of  Muir's vision of the Lake Tahoe National Park. Sure, it isn't the same as Yosemite – but you can travel one 165 mile continuous swath of land around one of the most popular (and profitable?) tourist destinations in California. There is no fee, just a wilderness and campfire permit. It is amazing if you stop to think about it, 141 years after Muir first visited Tahoe that I too can saunter through the same piney woods and view seemingly endless vistas of these heavenly waters.
Thru-Hiking the TRT from South of Camp Peak to Kingsbury North Trailhead
Mileage: 6.9 miles. It is a gradual decent all the way back to the trailhead. Easiest day on the trail!
Water Sources: none
We started today at 8:30am planning to get to the end of our thru-hike by lunchtime. Just a little ways south of Camp Peak we encountered a cute little  bench established by the area Kiwanis with an amazing viewpoint. It would be quite the day hike, but for bikers and trail runners the overlook would be a great little turn-around point from the Kingsbury North trailhead.
After descending from Camp Peak the trail enters the forest, providing from then forward an easy uneventful last stretch trail. We ended our loop hike at the intersection with the Kingsbury North connector trail – pausing to take some pictures of the three of us thru-hikers (Trails, Aspen, and Me), then made the short journey down to the parking lot.
All told it was 12 days and 172 miles (including side-trips), and we had made it!  More photos in the Gallery Below.