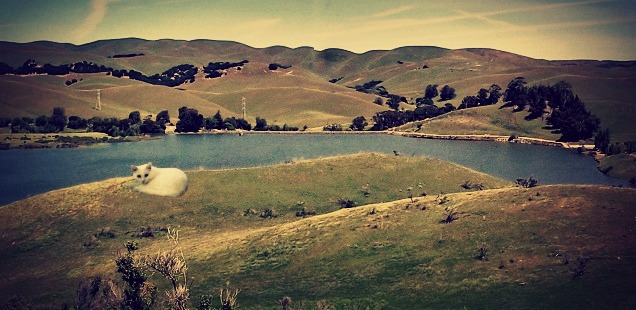 Lake Herman, Benicia CA: The missing link between my cat, the zodiac killer & miles of trails
Last month I had some time to burn in Benicia, CA before heading over to Steep Ravine & Point Reyes that weekend. I learned from Yelp that this North Bay area has a wealth of trails in the surrounding it: The Bay Trail, The Bay Ridge Trail, & a small network of paths in the State Recreation area. I choose to head out to Lake Herman, which links into the Bay Ridge Trail, simply because it shared a name with my cat. I was already imagining photoshoping Herman into a photo of Lake Herman on my drive over.
As I am writing this now though, and after watching the Zodiac movie with Jake Gyllenhaal on Netflix, I realize Lake Herman (or more accurately Lake Herman Rd) is the location of the first Zodiac Killer murder!  In case you are out of the legendary serial killer loop, the Zodiac Killer is one of the most notorious unsolved murder cases in California from the late 60's/70's. Connecting the dots now, no wonder this tiny drinking water reservoir gave off such a weird vibe.
Hiking Lake Herman and the Wiskerson Trail, Benicia CA
Distance: I did a 4-ish mile out and back, never even making it the bay ridge trail… meaning you could go much further. I can see why long distance trail running is a thing in the bay area with trails like this.
Trailhead: I parked at the Lake Herman Recreation Area, off of lake Herman Rd. Here I had to cross over a spill area which was dry at the time but was marked by signs saying: "DANGER: Stay Alive by Staying Out". You could instead park at Benicia Community Park to avoid this.
This small reservoir and the Wiskerson Trail is located on the boundary between a residential area and rolling hills of cow pastures. Walking along the hilly trail I gained some nice views of the lake, bay, community, and refinery. It is not the wilderness by any means, but there are few tripping hazards for trail runners and lots of geocaches if you are into that.
Just maybe don't come after dark, especially if you read too far into serial killer websites! ;)