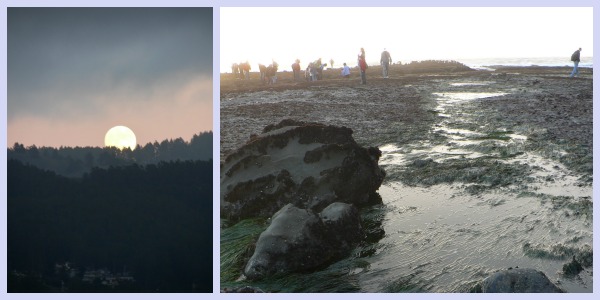 Low Tide at Pillar Point, Half Moon Bay
The other week, on November 17th, I planned to just do a little walk along the beach in Half Moon Bay. I had dropped Curtis off at SFO, carrying on to complete some errands and visit the ocean. Pulling in to find parking near Pillar Point it was crazy busy – I mean, yes this beach had alright Yelp reviews… but there are many beaches with alright Yelp reviews, why was this one so busy? But, I figured having driven this far in the consistently clogged weekend Hwy 1 traffic, who cares,  I am going to get out of this car and freaking enjoy this over crowded beach!
Why was Pillar Point overcrowded? The Low Tide. Was it enjoyable despite the crowds? Absolutely!
Pillar Point Walk at Low Tide
Distance: A little over a mile on the trail? I think I walked almost that far though getting to the car and back from my spot!
Parking: There is a designated lot, but if you come during low tide you are not getting a spot there. More importantly, the little street leading to the parking lot is apparently no parking on either side at any time. The police were going nuts giving 40 or so cars tickets when I was walking down this road. I ended up parking on the grid of industrial streets. Map
Apparently when "planning" (there really was little planning) this adventure I had not thought about the tides, or of course what phase of the moon etc.  Think about it now I have little more than a rudimentary knowledge how the how and whys of tide. Something about the earth's rotation and the phase of the moon – right?
Since apparently I zoned out, did not retain, or never was taught about tide in my elementary education this is a perfect opportunity to learn something new. Better yet, with the gentle soothing documentary stylings of San Francisco's PBS:
If you do plan to go when there is a full moon, then you have to consider the time of day when to go. When I was there it just so happened to be during the daily low tide (between 4 & 5). To be sure check out a tide chart – Here is one for Half Moon Bay.
Once successfully arriving at low tide, whether through diligent planning or just plain luck, it is simple matter of walking to the end of the well used trail and finding a spot to explore the tide pools. Here I found starfish, sea plants, grasses, & little crabs. Many people were well prepared with rain boots, but I did alright in my sneakers.
Well, I certainly learned something new! More pictures below.