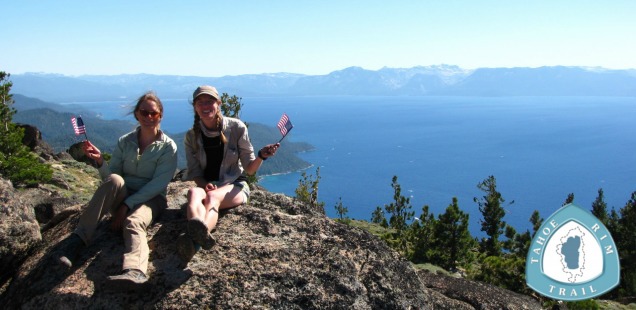 Marlette Peak Campground, Tahoe Rim Trail – Day 10
Beginning June 25, 2014 I thru-hiked the Tahoe Rim Trail (TRT), circling Lake Tahoe in 12 days. Accompanied by my friend and fellow blogger, Trails, we bravely took on this 165+ mile loop. I will be blogging a day-by-day rundown of each day's hike, night's campsite, and my contemplations while beating down miles. Check out my complete trip report for the TRT here – This is day 10.
It has become a tradition in the last couple of years to take a backpacking trip over the 4th of July weekend. Unfortunately this has meant we missed out on the yearly firework shows, instead "settling" for sunsets and the calmer sierra canyons.
This year though, as Trails and I headed into our 10th day on the trail, we were picking up "The Boys" who were joining us with their mountain bike just in time to bring 4th of July essentials: Whiskey, wine, flags, and enthusiasm.
That night from a wilderness ridgeline we were able spot the shows from each Lake Tahoe city splayed out below as if we have ordered a sampler plate of patriotic festivities. Tahoe City, then Incline Village, another small show somewhere below us (???), and the big South Lake show all take their turn shooting small sparkling bursts into the big sky. Meanwhile cold gusts of wind powered past us, dominating the soundscape over the distant booms of the larger explosions – Our small group shouted over the wind to add in our own soundtrack. We are as rowdy as a group of 6 can be on a boulder in the dark, alone, overlooking Lake Tahoe… For America!
Thru-Hiking the TRT from Mount Rose Campground to Marlette Peak Campground
Mileage: 15.2 miles. The main elevation climb is near the end of today's hike, after reaching the intersection with the flume trail – a 700 ft towards Christopher's loop. We hiked up to Christophers loop which was worth it.
Water Sources: We did not see anything between Ophir Creek (in Tahoe Meadows) and the water pump in Marlette Camp. The water pump at Marlette Camp is super quick/convenient – but is much easier to operate in pairs.
We left camp around 8:30 to meet the guys at the Tahoe Meadows trail head around 9:00. Between meeting up, divvying out the food, and snacking we finally got started on the trail closer to 10:30. It was a late start, much latter then I was used to, but the guys on the mountain bikes were able to make good time and get a good spot at Marlette Camp for us.
This stretch of the trail allows mountain biking on even numbered days. Combined with the holiday (the 4th is an even day!) this made for a very busy day to backpacker along this stretch of trail. Obviously we were ready for this, being the 4th and a biker day we could not expect a quiet wilderness experience.  Most bikers though were friendly and considerate, and if they weren't… then maybe they can learn something from our insight?
Near the end of out hike today Trails insisted we hike the extra mile or so on the "Christopher's loop" trail, which was called the "Sand Harbor Overlook" on the trail. Either way, it is a good choice (thanks Trails!). Leave your packs at the bottom of the hill and bring a camera, it is definitely one of the best view we found on the whole TRT.
Arriving at Marlette Peak Campground we found bear lockers, a vault toilet, and picnic tables. The campground did fill up completely on the 4th but campers squeezed in around the edges and shared bear lockers, not a big deal. I went on my only nighttime hike that evening when we traveled up the Marlette Peak Loop to see the fireworks. Totally worth breaking my "bedtime" to see the fireworks.
Continue on to day 11 or find links to all my TRT blog posts in my Tahoe Rim Trail Trip Report.