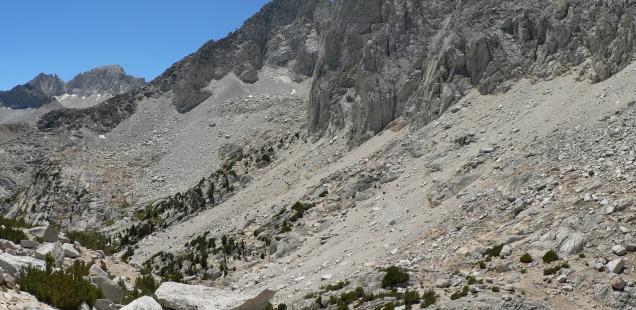 A MicroAdventure Hiking Mono Pass, John Muir Wilderness
This morning I was reading an article about #MicroAdventures – which simply put are mini adventures that allow one to escape the 9-5. The video, the hashtag, and the blog of the man who wrote the book on #MicroAdventures make it seem very exciting, fun, and well… sexy. It is like a one night stand with a beautiful place & who knows if you will ever see it again. I immediately wanted to take a #MicroAdventure, even though I need to pack for a #MacroAdventure (AKA: An Colorado upcoming roadtrip)!
But here is the thing, don't we already have the term for the 9-5 adventurers? I thought this was a "Weekend Warriors"? Alright, the term "Weekend Warrior" is used in lots of different ways – from a person completing DIY house renovations to the guy who camps out at the bar Friday & Saturday – but I think we should acknowledge that thousands of tents were set up by weekend warriors long before #MicroAdventures ever existed. Although I still want to read the book, impulsively camp out some night soon, and will probably start using the hashtag – you can't deny a good hashtag.
Whatever you wish to call it, this past weekend Curtis and I took a weekend trip to Rock Creek Canyon in the Inyo National Forest. All we had was just an idea of where we were going – no reservations, no solid plans. Luckily we scored the last campsite available at the Rock Creek Campground (more on that in a future blog) and was able to get an early start on this amazing hike to Mono Pass. Who knew there was another Mono Pass outside Yosemite?
Hiking Mono Pass
Trailhead: From  Highway 395 turn at Tom's Place and continue up the long Rock Creek Road to it's end at Mosquito Flat trailhead parking. This is a busy trailhead so you might need to park and walk a bit. Map
Distance: Straight to Mono Pass and back it about 7.5 miles, and over a 2000 ft elevation gain (bringing you to the impressive elevation of 12045 ft ). We ended up adding some distance by hiking the short half mile trail to Ruby Lake and also circling a knob on the west side of the pass to get a view of the Pioneer Basin.
Topo Map: This hike is in the John Muir Wilderness, which is coincidentally the most difficult wilderness to obtain a map of. For this hike I used the Tom Harrison Mono Divide High Country Map. If you want to hike North of here though you will need a different map, which is a shame because they could have printed that map on the empty back side of this map (or just used half the paper making the map weigh less… we have the technology Tom Harrison).
This is not the easiest hike, but in one day it travels past scenery that usually requires at least a couple day of backpacking to reach. Starting up the trailhead you enter into the John Muir Wilderness,then turn right off of the busy Little Lakes Basin Trail to take a short connector trail that will dump you onto the trail to Mono Pass/Ruby Lake where you will turn left. This is where the climbing and vistas worth climbing for begin.
Climbing up to Ruby Lake we gained views of the Little Lakes Basin on the left and a dramatic face of Mount Starr on the right. By the time we had reached Ruby Lake, at 11121 ft, it was time to take a break and adjust to the elevation. No joke, this is not an easy hike and we needed to adjust to the elevation. We took a long break snacking and drinking water and again felt prepared to tackle the remaining thousand feet to Mono Pass. I'm not too ashamed to admit we wouldn't be summiting Mount Starr.
Hiking towards the pass the landscape changes to the amazing stark and beautiful boulder fields that appear on the crest of Sierra Nevada. Hiking through here is like hiking up the spine of a mountain, the massive geologic history diminishing my ego to that of an awestruck flea. After reaching Mono Pass (a pile of rocks designating the pass proper) we were unwilling to quickly turn back, instead taking a small hike around the western knob of Mono Pass to gain a vista of the Pioneer Basin.
Maybe someday we will come back to backpack this area, but as far as a weekend adventures go, this hike is one of my favorites.