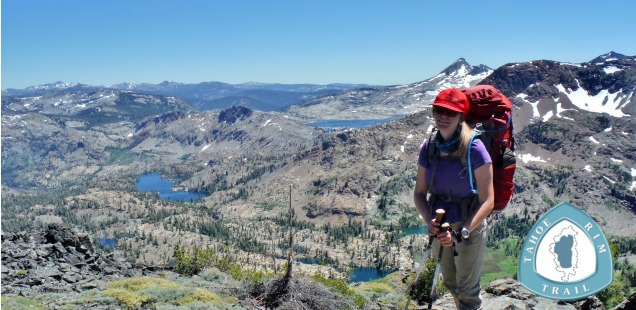 Middle Velma Lake, Tahoe Rim Trail – Day 4
Beginning June 25, 2014 I thru-hiked the Tahoe Rim Trail (TRT), circling Lake Tahoe in 12 days. Accompanied by my friend and fellow blogger, Trails, we bravely took on this 165+ mile loop. I will be blogging a day-by-day rundown of each day's hike, night's campsite, and my contemplations while beating down miles. Check out my complete trip report for the TRT here – This is day 4.
The Desolation Wilderness is the busiest (highest use per acre) wilderness area in the United States- meaning that during this stretch of the TRT  any questions you have likely could be fielded by a friendly fellow hiker. Despite this I feel like there are two topics that are sorely under reported. Lets report them bad news, good news style:
Bad News: Talus of Doom
Talus is apparently a popular trail surface type through out the Desolation Wilderness. Yes, it makes sense that this would happen in the this granite wonderland, seeing as there is little soil to soften the ground… but hiking through miles the sharp slippery surface can really wear a person down! (literally?) Anyhow, just be mentally prepared for a repeating cycle of Granite stabbing, slipping, and clattering.
Good News: Wilderness Poodles
Hiking with your poodle in the wilderness, or really anywhere around Tahoe, is a thing. I swear I saw at least a half dozen on the TRT trek!  I met my favorite poodle of a trip on our hike up to Tamarack on Day 4, and ran into her again around Aloha Lake on Day 4. She was a large white poodle (Can you tell I don't know my dog breeds?), chilling with a group of backpacking ladies. The best part was her name: "Sassy." I like to think of her as "Sassy the Wilderness Poodle."
Hiking the TRT from Tamarack Lake to Middle Velma Lake
Mileage:  13.4 miles. This was a difficult day because of the ~1500 ft hike up to dicks pass, which  happened during the hottest part of the day for us. luckily that downhill after was not as knee shattering as it could have been.
Water Sources: Desolation is a land of lakes, I wouldn't worry too much.
Started down the trail at 8:30 am, we first stopped at the far end of the beautiful Lake Aloha for a morning snack. I think I might be one of the very few people here  who had visited Lake Aloha before. I can totally understand why people keep coming back though : GRANITE FOR DAYS.
On the way up to dicks pass I felt like we passed in and out of several potential pika sighting areas. We were too focused on hiking to dilly dally for pikas, but I did manage to get a few wondrous moments soaking my feet in Gilmore Lake during another snack break.
It was a tiring hike but the view from Dicks pass was a quadruple-ly wondrous sight. With the desolation laid out below you it is almost like Google Earth , but WAY better.
Hiking back down dicks pass initially took less time then I expected. The hike over to Middle Velma Lake (of course) then took much longer then I had predicted. Beware fellow log crossing scardey-cats, at the outlet for Fontanillis Lake that you will come the only log bridge on the TRT. Don't worry I did it, you can too.
Middle Velma Lake is a lake with many tiny islands in it, and many tiny mosquito ponds surrounding it. It was a little difficult to find a spot to camp and a non-vegetated area to hop in to swim, but we persevered. Actually looking at the pictures now I admit it really was a beautiful lake, it  just required a small bit more patience then the previous three nights of lakes.
More photos in the gallery below & Continue on to day 5 or find links to all my TRT blog posts in my Tahoe Rim Trail Trip Report.