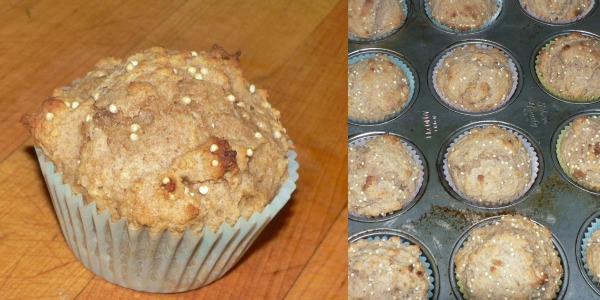 Millet Muffins – Cover to Cover Cooking
This millet muffin recipe  review is a part of our Cover to Cover Cooking series, where Denise & Jacquie cook the entirety of Hedi Swanson's 'Super natural every day' and share their experiences.
Jacquie's Review:
Sunshine in a muffin. I swear.
The mixture of  honey and  lemon hits a perfect spot between sweet and tart and the millet crunch tops off perfection. Plus- doesn't it almost look like they're polka-dotted? They are obviously happy muffins.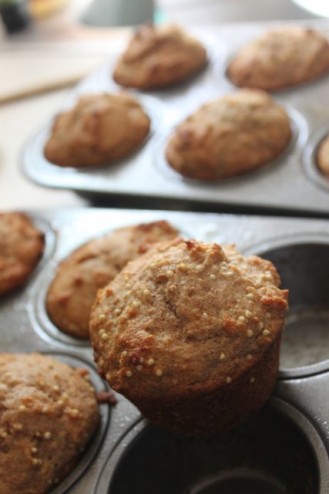 Speaking of millet, I had never heard of the grain before reading this recipe. It is supposed to be sweet and slightly nutty in flavor, but I can't really say because I haven't yet tried it by itself, much less by itself and cooked. It seems it's primary purpose in this recipe is the crunch, which it does quite well! According to Terry Walters of one of my new cookbooks Clean Food, millet is supposed to be settling to the stomach and healing to the spleen and pancreas. I'm not sure if I really believe all that, but it certainly couldn't hurt!
I used plain greek yogurt instead of regular yogurt and I don't believe it does any harm. I'd advise to freeze the ones you don't plan on eating on baking day or the day after once the muffins have cooled, as they are considerably less delightful when they get a little tough. Not that you'll likely have trouble eating them yourself or pawning them off!
Denise's Review: 
Millet – it isn't just for birds anymore!
This recipe would have not happened if it wasn't for Jacquie sending me the millet… which I am fairly certain that if I would have asked for it in my small foothill community I would have gotten sent to the birdseed section. Apparently you don't need very much for the muffins, so you can share with a friend!
What you do need in bulk though is the Honey – ugh. I love honey and all, but it is so hard to get out of the bottle, especially since Curtis & I store ours in the fridge to avoid attracting ants.  I think my stiff honey made for a nice texture in muffin, more like a fluffy cornbread than a soupy batter. And the resulting muffins, not too dense, but filling honey and lemon with a tad bit of crunch.
PS: I made this muffin before starting my 30 Day Vegan Challenge… but I believe to make this vegan I would use agave instead of honey, earth balance instead of butter, a non-dairy yogurt, and one whole banana instead of the two eggs. Goodness, now I really want to try making these muffins again with all these crazy substitutions and see if they turn out! 
Millet Muffin Recipe
Apparently this is one of the few recipes from the book that is available online, find it at Culinate.com or as a PDF on Hedi's website.