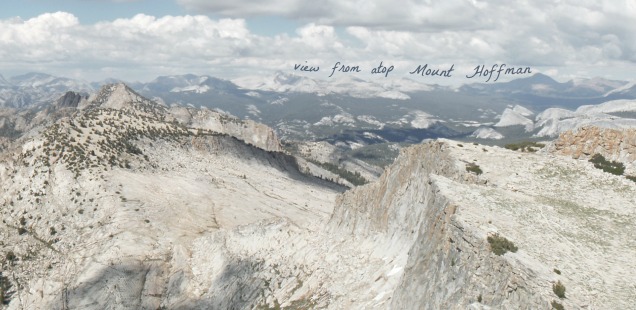 Mount Hoffman: The Ultimate Yosemite Panorama
I hiked up Mount Hoffman with a group group of friends in early July this summer, it was my second trip up Hoffman. The first trip was in the fall of 2011 – which I can from experience say it is an amazing hike both summer & fall. On that first trip there was a light dusting of snow across the peaks, although we had to hike up the seasonally close May lake road. On this second trip we were able to drive up the May Lake road and cut a mile off  our hike time, which is a pretty nice perk. Either way it is unbelievably beautiful. Actually maybe I have postponed writing this particular post because I have nothing to say about Mount Hoffman… other than if you have the chance please go see it for yourself… Now scram!
Of course, I understand we can't all just go up Mount Hoffman right now. Maybe you are hundreds of miles away, or maybe it is the middle of the night. Perhaps you have work in the morning, or would rather just chill instead of hiking up a mountain. That is understandable… but look at these pictures!
Hiking Mount Hoffman
Trailhead: Park at the May Lake Trailhead. In the summer you can reach this small parking lot by going up a narrow little road off of Tioga rd. We did not arrive early enough to get a spot in the parking lot, but were able to park along the road. In the fall/spring month this road is closed and you will need to park off of Tioga Rd and walk up the road. Map.
Distance: 6 miles, which is pretty strenuous as you approach the peak at 10,845ft.
Many maps don't show an official "trail" to the peak, but it is a very well used use trail leading to the summit. Start from the official May lake trail and then head west along the south shore of the May Lake and you will find the use trail leading west and then north to the the peak. Climbing up the trail a false summit comes into view, and then as the trail swings Northwest where the true peak with it's radio tower shows itself. The final stretch is a scramble up and over some larger rocks to the top.
Arriving at the peak our group took a long break for lunch, photos, and taunting the fearless beggar marmots. Have you seen that video of a Maromot photobombing one of those long exposure shots? These marmots would have held up a sign in front of that go pro and asked for some cheetos. They are were a savvy bunch.
Seriously though, I thought it might have been a fluke the first time – but the second trip cements it in my mind that this is the most panoramic day hike in Yosemite. Check out more photos below.