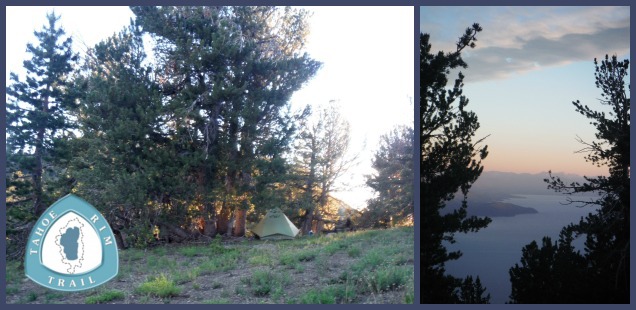 Mud Lake, Tahoe Rim Trail – Day 8
Beginning June 25, 2014 I thru-hiked the Tahoe Rim Trail (TRT), circling Lake Tahoe in 12 days. Accompanied by my friend and fellow blogger, Trails, we bravely took on this 165+ mile loop. I will be blogging a day-by-day rundown of each day's hike, night's campsite, and my contemplations while beating down miles. Check out my complete trip report for the TRT here – This is day 8.
I talked about the Pacific Crest Trail hikers we had met while the Tahoe Rim Trail overlapped with the Pacific Crest Trail, but what about our fellow TRT thru-hikers? Well, actually we did not meet that many – Here is a summery of the TRT thru-hikers along the way:
A man we met by Ward Creek: He started the same day as us out of Kingsbury South traveling clockwise, and therefore was slightly ahead the whole trip until day 6 when our paths finally intersected. I hope if you continued on you had enough water, or if you didn't I hope you did see the fireworks from Tallac because that would be awesome.
A woman just starting out of Tahoe City counterclockwise on her way to Ward Creek, also day 6 – she must have thought we were crazy trying to find a camp spot off the TRT that close to Tahoe City. Actually we were a little crazy, but it was a long day and we made it work!
A couple headed  counterclockwise from Kingsbury that we met past Brockway Summit on day 8. You guys made us laugh with your "So that means we are halfway?" comment. I hope we did not seem to mean with our deadpan "Um, no." Maybe we are mean? I am blaming the trail for making us mean people.
That one guy we met at Galena Falls in the hawaiian shirt, also going counterclockwise from Kingsbury – I hope you did splash around in Galena falls and weird out some day hikers. That would be hilarious.
Yeah, five people and that was it. Maybe it is because we were headed clockwise and as do most other TRT hikers, so we never caught up with them/they caught up with us. But you think we could have played leapfrog with SOMEONE.
Hiking the 165 mile TRT is not as well recognized of a thru-hike as the 2650 mile Pacific Crest Trail or the 210 mile John Muir Trail, although all of them do put a feather in your cap. The PCT is a quintessential classic thru-hike, no questions asked. The JMT is some of the most beautiful county in the Sierra Nevada all slammed into trail. But the TRT also has it's perks, like discovering Lake Tahoe beyond the casinos and ski resorts in a way not many else have on this relatively new trail. And, speaking practically, TRT thru-hikers don't have to quit their jobs for a 2 week trek. I mean, why not?
Thru-Hiking the TRT from Watson Lake to Mud Lake, Mount Rose Wilderness
Mileage: 16.8 miles. Mostly downhill from Watson Lake to the Brockway summit trailhead (on hwy 267), then a 2100 ft climb to Mount Baldy.
Water Sources: Watson Creek was flowing right past Watson Lake. After Watson Creek it is a long dry stretch to Mud lake, which I would not bet on late in the season (it was a small puddle as shown in some pictures below). Grey lake would be a better bet, but I would look at the TRT association page & try to ask someone to prepare before heading out.
Leaving Watson Lake in the morning Trail's and I had decided to ask any backpackers we saw on the trail about the water situation at Mud Lake, which we had heard sketchy reports of, versus Grey Lake, a lake looked more dependable but required a detour off the TRT. We ran across the couple hiking the TRT right after the steep couple mile hike up from the Brockway summit trailhead, and they informed us they were still carrying water from Mount Rose Campground (20 miles down the trail). Their impression made us decide to go to Grey Lake (at least momentarily).
The TRT  here gains elevation steadily as it moves towards Mount Baldy and begins to show some really amazing panoramas of Lake Tahoe. Entering in Mount Rose Wilderness (another new wilderness for me, and my first Nevada backpacking trip!)  the trail earns it's "Tahoe Rim" name by contouring the ridge line around the lake. It was up here that we met up with a couple other backpackers, locals, who informed us that they filled water at Mud Lake. Also that stretch of trail to Mud Lake was not to be skipped – it is "The best part of the TRT."
With conflicting reports we had to decide between to go to Grey Lake, which would have shorted today's hike and extended tomorrow's, or go to Mud lake and hope there is camping available within a reasonable distance of the lake. We choose to go to Mud lake as to not to miss the "Best part" of the TRT, to finally camp with a Tahoe vista, and to hopefully save "tomorrow us" from hiking more as we left Grey Lake.
Was it a good choice? Well… The trail here is evidently beautiful, but part of that "beauty" is that you are walking on a trail blasted into the hillside – meaning more sharp 'Talus of Doom' under my aching feet. My aching feet that thought they would be done a half mile ago. But Mud Lake did have water! Although the sediment from Mud Lake combined with the Watson Lake silt the night before had clogged the filter in a way that could not be easily fixed on the trail. Also, Mud Lake does not have a trail. Which is just dumb because the impact of hikers sliding down the steep loose soil slope to get to one of the few water sources on this part of the TRT can not be good for this tiny lake.
Trails and I eventually gave up on filtering water and used iodine tablets instead, them climbed out of the Mud Lake basin to find a small wonderfully convenient spot right around the corner of the trail. Add in a view of lake Tahoe and we were sold. So, was it a good choice? Maybe not, but the sunset that night was worth it. After all, you can not hike the Tahoe Rim Trail without camping with a Lake Tahoe view at least once.
More photos in the gallery below & Continue on to day 9 or find links to all my TRT blog posts in my Tahoe Rim Trail Trip Report.