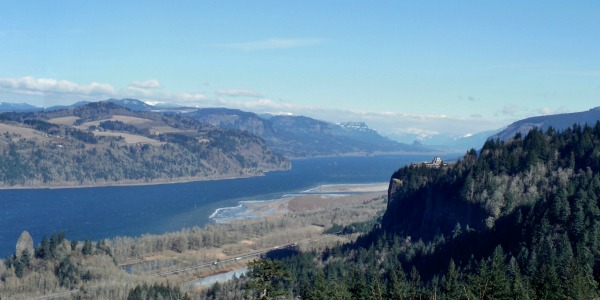 WINDY WINTER CONDITIONS: Multnomah Falls & Columbia River Gorge
So, I went to Portland for a couple of days with Curtis for a brief trip & guess what happened?
Now it is chilly up here, but we have been assured that this is not a very common occurrence. Which is obvious by the fact that a that a few inches can cause a 30+ car pile-up closing I-5 on the day we planed to go home. Guess we are stuck in Portland until things clear up.
In all honesty we could have gone back south to California on Wednesday, snow free – but after seeing so many pictures of Multnomah Falls on pinterest I REALLY wanted to get out to see it. So we did – because PRIORITIES. Of course we didn't prioritize being super prepared for the frigid February winds in the Columbia River gorge – thus making hiking on the trails a no go. But driving trips are fun every once in a while too (and make it so I will have to return again to get down those trails and see low elevation pikas).
Multnomah Falls and Columbia Gorge Vista House Driving Loop Tour
Not going to lie, even though I have looked at the Pinterest "pin" for Multnomah falls SO MANY TIMES, I never went ahead and looked into the specifics how difficult it is to get to. I mean it is a beautiful fall, and I was sure it was worth the effort to get to – but in all reality it is SUPER easy to get to. Plus it is only a half hour drive from Portland – how convenient! As to prove how convenient this really was Curtis took me to the easy on/off Multnomah falls exit and parking area in the median of Hwy 30. Just pop under the windy highway and BAM, right there.
Sadly as of January 2014 you can not walk on the bridge in front of the falls – a boulder has fallen onto the structure and damaged it until further notice (see pictures in the gallery at bottom of the post). Happily, now there will not be a bunch of people you don't know in your picture of the falls. :D
As ever, gazing on the winter splendor is magnificent. If only the wind gusts of 30+mph and mid 20's temperatures would have been slightly less omnipresent it would have been a lovely spot for relaxing coffee (There is a coffee stand 200 feet way, in case you forget you are in the Pacific Northwest). Weather being what it was though we decided to nix the dillydallying and hiking and proceed to sight see via car – traveling down the Highway to the Corbet exit and looping around on the Historic Columbia River Highway to see the Scenic House (Closed because of high winds) and many waterfalls along the route.
So perhaps we are stuck in Portland for a few more days -but how could you have expected me to turn down a short trip out of the city to see a half a dozen picturesque waterfalls? Oh well, at least California is getting some rain too.
More photos in the gallery below, including: Portland Women's Form Vista, Vista House, Rooster Rock State Park, and Latourell Falls: