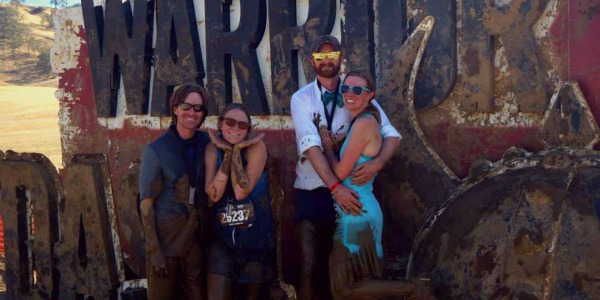 This is what you need to know if you are running the Warrior Dash…
… Don't get sick right before you run it. Seriously, I have been intermittently coughing and unable to speak for a week and a half straight. It is not fun. Although, maybe pushing through the race while sick is a very "Warrior" thing to do?
NorCal Warrior Dash
The warrior dash is 5k-ish (our race was 3.4 miles) with an assortment of obstacles. It is one of many generic mud/obstacle races that have proliferated recently. I did the 2013 NorCal Warrior dash with Curtis, and our friends "Trails" and Ryan. Trails, our resident obstacle race veteran, did a review of how she would rank the warrior dash comparatively over on her blog. Spoiler: there could have been more mud.
The warrior dash organizers have already alerted racers to the fact that next years NorCal warrior dash will be in the same location, Yolo Land & Cattle Co, and I thought I would give it a brief need to know review for anyone contemplating the NorCal race next year. Or, a heads up to those wondering what obstacles any warrior dash runner might need to worry about.
The most difficult part of the NorCal warrior dash is the first mile. Mile 1's Motto: All hills all the time. I mean, I am from a hilly place, but slacked off on running over the summer (which I stand behind, a person should only have one impact intensive activity on the knees at  a time #sorrynotsorry). It was literally one week before the race when I started picking up my running from like 4 miles a week to something normal. My plan was to catch my breath at the obstacles… which is a good idea, except there are no obstacles in the first mile. And, as I mentioned, it is ALL HILLS. So be prepared for that. Or be prepared to walk. Actually, even if you are prepared to run hills be prepared to navigate around people as they just start walking in the middle of the course. Sorry runners.
Other than that first mile the course was comparatively flat, dry, and hot. There are aid stations at every mile, which was good for me as I started thinking about how I was sick and probably eating through my fluids quicker. Random fact/moral for sick runners: In high school cross country I was sick, self medicating with the dehydrating Advil Cold & Sinus, and managed to have a heat stroke due to dehydration on a pretty mild day. If you are running the warrior dash, or any race, while sick remember to hydrate!
The obstacles were in generally less scary than I had imagined. I found the non-muddy trenches and barbed wire crawl more annoying then either scary or fun.  The warrior wall very intimidating once you got to the top and had to swing around to get back down with out a rope… but I made it so you can too? Even in our costumes – we did a "Prom" theme, so I did that sucker in a dress. Keep it classy warriors!