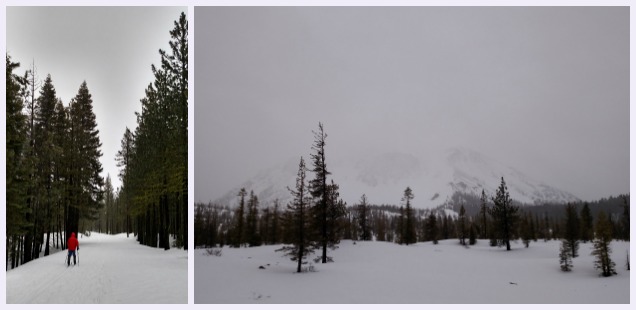 Not quite Winter Camping: Manzanita Lake and Chaos Crags
Now that both Curtis and I work for branches of the government we share some of the same odd holidays. I am talking about the type of holidays that I tend to completely forget about until looking at the currents month calendar. For example Presidents Day, most notable in my mind for furniture store super-sales, is a real holiday for both of us. Score!
As fate would have it, I had just downloaded "Snowshoe Routes: Northern California," so the three day presidential weekend looked like the perfect opportunity for a spur of the moment snowshoe winter camping trip. The weather seemed to suggest Lassen National Park would be perfect – and the area looked ripe with short little secluded spots for a short trip easy winter camping trip.
Yep, turned out to be a lovely weekend of a cold miserable rain with intense wind gusts ripping through the Manzanita Lake area.
I told Curtis we didn't have to spend the night out in the storm, as long as we recreate-ed like champions all day. We skied up to a Chaos Crags overlook & snowshoed around Manzanita Lake. In total the trip doesn't seem very far – until you account for the constant cold drenching rain slapping you in the face.
Cross Country Ski to Chaos Crags overlook, Lassen National Park
Trailhead: The road was plowed as far down as Ranger Station Parking lot. At the parking lot area you can find an open restroom, and snowshoe/ski sign-in log. We could have filled out an overnight tag here as well. Map
Distance: 2 miles total, 500 ft elevation gain in the most gradual way.
First off, to just ensure we didn't want to spend the night, a ski straight up to a windy overlook! The "Chaos Jumbles & Emigrant Lake Trail" took off from where the road we drove down ended. Following the paved road it is a very gentle climb, a pleasant easy cross country ski that is sheltered in small trees as you gain elevation approaching the Chaos Crags overlook.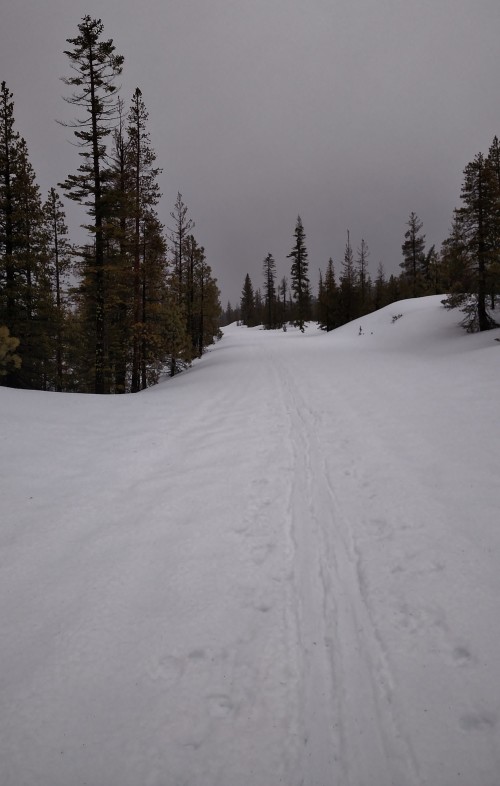 We made it to a roadside informational sign pointing us at the Chaos Crags, where we took a photo break and fell into necessary silence. Silent because the powerful wind would flare up around us, threatening to blow our skis out from beneath us and steal the voices out of our throats. It is the sport of place that demands respect (apparently!).
The vista, like most other sights beyond 100 feet, was obscured by the winter weather engulfing us. We could still spot the crags, but as if filtered through a low contrast black and white filter. It was beautiful ambiguous manner, the mountain was playing hard-to-get with us. Understandably so, I could only imagine how windy it was up there… that mountain had no time to simply be a pretty photo for some tourists.
Shoeshoe Manzanita Lake, Lassen National Park
Trailhead: Same as above.
Distance: 2.4 miles, 200 ft elevation gain.
After shedding our skis and warming up in the car for a bit, we once again put on our wet gloves and headed for a brief snowshoe around Manzanita Lake. The recent warm spell had melted the center of the lake into a fluorescent blue patch, contrasting with the grayscale landscape surrounding it.
The snowshoe trip is pretty straight forward, minus a small stretch part of the trail near the entrance station where the snow plows have bermed the snow straight into where you would like to hike (as opposed to risking the edge of the lake).
When planning this trip, our doomed camping trip, I figured if we wanted to wimp out we would just hike up and beyond Manzanita Lake to camp for a super short snow camping trip. I imagined waking up to views of the mountains above the frozen lake. Instead we ripped off our soaked layers in the car and headed back to Redding to find a cheap hotel and some expensive local microbrews. Maybe next time Lassen, but thanks for a crazy day.