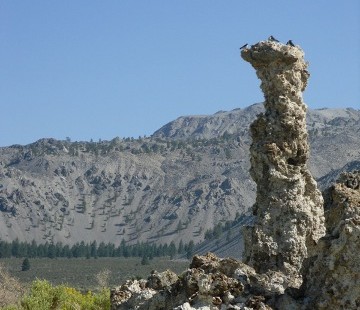 Obama said we needed a vacation- So we went to Mono Lake!
Actually Curtis and I had been planing to go to Mono Lake ever since I pleaded with him to understand that the fragile saline ecosystem appealed to my inner environmental engineer.
In case if you have not heard the back story, or slept through environmental engineering fundamentals, Mono lake is a saline lake in the great basin that is fed by various freshwater streams. The city of LA quite some time ago decided it too would feed off these streams, during that cool time period where environmental regulations were pretty rare, resulting in the city withdrawing so much water from the streams that the lake levels consequently plummeting… and the salinity of the lake going through the roof!
-FAST FORWARD- Yada, Yada, Yada  bad for the ecosystem, lets all work together, some water for LA, some for the lake = new regulations in place… "Hey, lets make an interpretive trail walking along the historic lake labels and explain to the city dwellers why they are getting less water, but look at the cool Tufa!" (Tufas are the carbonate towers that result from the saline water and springs in the lake, which make Mono lake look neat and not just like a smelly salt puddle)
So this is Mono Lake (pronounced like "Oh-No, Mo-no lake is disappearing!"), and it may be possible that indeed the lake will someday be restored to a level where you cannot hike the South Tufa Area. Thus, we had to do it now!  Our trip consisted of:
Figuring out it was National "Free Day," seeing as we made a fool of ourselves showing our year pass to get into Yosemite when that was unnecessary, and then the woman manning the both at Mono lake told us we didn't even have to pay the $6 parking fee!
Hiking South Tufa, and wishing that kids would stop performing gymnastics on the delicate Tufa towers
Finding a random trail to Navy Beach, that took us past a secret hot spring!
Wondering if I would have swam at Navy beach if I would have brought a bathing suit (it was pretty smelling with MANY shrimp to get in your pants, if you know what I'm talking about!)
Hiking up the panum crater, a volcano and young mountain
Oh, yeah, we are going back sometime to check out more Mono goodness!