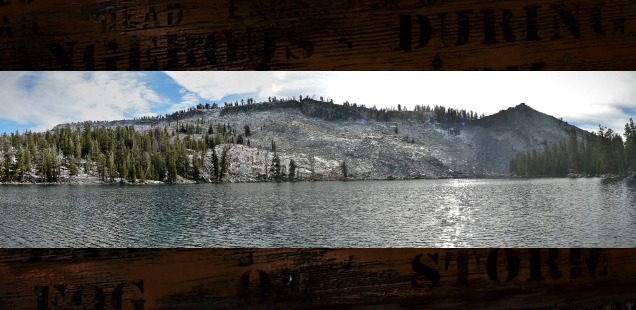 Ostrander Lake, Yosemite: Find Some Peace on this Long Day Hike
With Curtis out of town the other week I had time to do one of Yosemite day hikes he has been less than enthusiastic about. I have really been getting down to the last few day hikes (although there are still some major ones, like the Mist Trail, which I have never blogged about) – and I admit I might have avoided these for a reason. Often the remaining trails are the less vista packed, located in areas open only during summer months, have a long drives time to get to, and are either a long day hike or an obnoxiously short one. If you only have time for one day hike in the park, I don't think I would recommend Ostrander – but if you are looking for a long relaxing hike to have time think, this is the hike you are looking for.
Ostrander lake is a long day hike – according to Yosemite's signs it is 12 miles round trip, but my gps estimated it at 14 miles. The trail spends much of the time quietly weaving through the woods before reaching Horizon ridge and any views. I was looking forward to solo hiking it, I like the quiet peace you can find in the southern half of Yosemite, which is even less busy in fall after the Glacier Point rd has been intermittently closed for snow but before Badger Pass opens.
Day Hiking Ostrander Lake, Yosemite
Distance: 14 miles according to my GPS. While it was a long hike the first three miles from the Ostrander Lake Trailhead are very flat, and then the slope for the remaining 4 is never too terribly steep.
Trailhead: The Ostrander Lake trailhead is about 9 miles up Glacier point Rd, parking in a dirt lot on the South Side of the road. Bear bins and a latrine are available at the trailhead. Currently to prepare for winter they have taken down the trailhead signs on the road, so just watch out from the parking area after passing the Bridalveil Creek campground. Map
I hiked this trail in the middle of November, in the week prior Glacier Point Rd had been temporarily closed because of snow and the week after it was again. The parking area was a little icy and the trailhead already warned of "High Snow Levels" and "Snow Bridges." Clearly Yosemite is preparing for winter weather and the coming cross country skiing season. The first few miles of the trail did have pockets of a thin icy snow covering the trail, but luckily as the slope of the hike increased the snow disappeared. It was just enough to feel like it was fall, but not enough to slow you down too much.
Horizon Ridge, the highpoint on the trail before you pop down to Ostrander offers some great great views to the West of  Mt Clark, Red Peak,  Merced Peak and more mountains. Ostrander itself it a familiar feeling southern Yosemite lake, surrounded by a ridge on one side, camping and picnicking spots on the other. The ski hut is still on lockdown, but still an interesting little structure.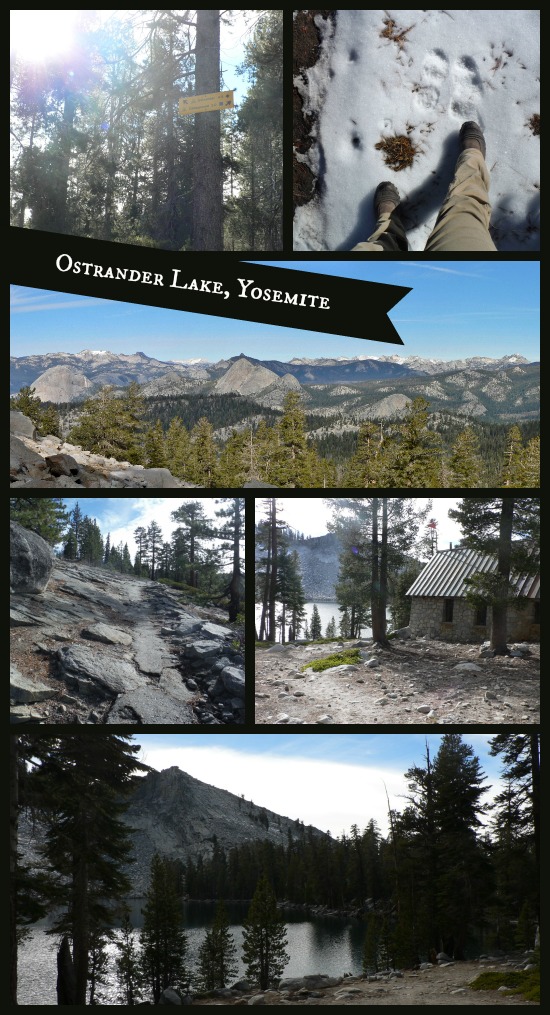 What I found most interesting about the trail is the competing traditional Yosemite metal hiking signage, and the elevated cross country ski trail signs. This trail would be a much more difficult journey on skis, earning it the black diamond rating, and trail distances listed on ski signs seem to be closer to what my GPS has listed. Maybe they have newer measurements? And when you reach the lake there ski signs posted to direct you across Horse Ridge – a traverse I have seen used in backpacking loops – along with some great DANGER warnings. This would be a memorable winter destination for sure.
Maybe I should enter the lottery next November instead of hiking? Pretty sure I can handle both! ;)