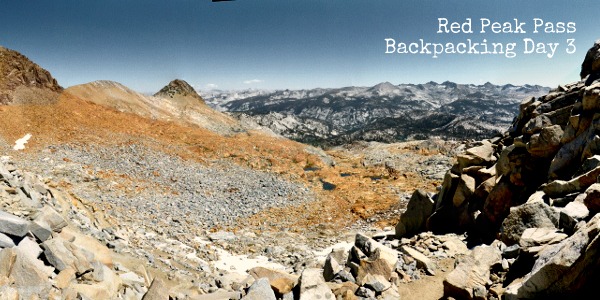 Ottoway Lake to Merced River – Backpacking Red Peak Pass Day 3
Curtis & I hiked Red Peak Pass in Yosemite for 5 days and 4 nights. It was 50 miles of mountains, lizard push-ups, rivers, and lakes. Check out the blog post detailing each day's ups, downs, and tips: Day 1, Day 2, Day 3, Day 4, Day 5
Or continue on to read of day 3's adventures…
We attempted to get an earlier start today, as leaving Ottoway lake and hiking up red peak pass was to be our first longer hiking day. We were also anticipating it to be our most scenic day as we crested the pass, thus needing lots of picture time. Luckily this had us heading up the pass during the coolest part of the day. Unfortunately in the cooler morning I could hallucinate hearing Pikas everywhere, causing us to slow down looking for them (FYI: none to be seen, my hypothesis is that July is too hot for them to hang around to say hello as they have in September and October up in the Mono Pass Area).
Despite the lack of Pikas, Red peak pass was an amazing view both to the west looking down at the Ottoway Lakes area, and looking west towards more mountains and some smaller lakes. Maybe if we do this again we would take the time to try and summit the peak (and getting some cell phone service? Just kidding, but really, we got to check on Basil!). As it were we had another 10 miles to go and started our way down.
If I had one extra day to hike this trail I would probably have wanted to stay at on the many small lakes in this valley. The one we stopped at to eat lunch was teeming with tadpoles, and one momma frog we saw which would make for some amazing lullabies. Another Lake along the trail that we stopped at for a quick swim was just the right temperature and had a nice drop off so you did not have to wade in through any muck. If we could arrange for some beer to be parachuted in then it would really be the perfect relaxing "Theoretical" extra day.
Crossing the Merced peak fork (Sandals required) brought us back into mosquito territory, where we remained for the rest of the day. There was a perfect storm of them by the time we reached the trail's first turn at the triple peak fork of the Merced River. We end up camping right before the trail dips down into a granitic canyon, where it was windy enough that the bugs would not swarm us. It was a nice enough campsite, although for some reason, perhaps being in granite again, combined with not seeing any person since we went over the pass gave the area a creepy vibe. My bet is on Native American Sacred ground, while Curtis was thinking that imminent rock fall was more probable than spirits.