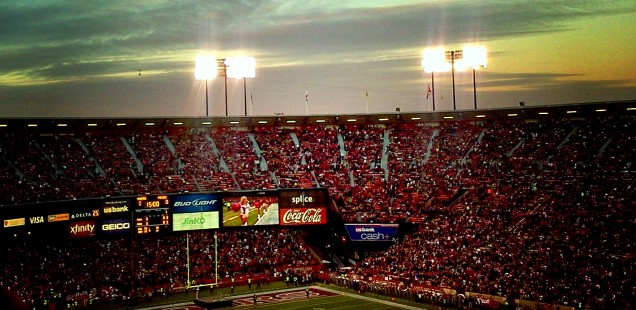 Packers Football at Candlestick Park & Beaut-tree Updates
Last Saturday Curtis and I with some friends made the trek down to San Francisco to do some pre-gaming with the other dozen Packers fans by the stadium.  It was the Green Bay Packers versus the San Francisco 49ers for a post-season game, if you are blissfully out of the know.  The plan was to then head out to a bar to actually watch the game, since tickets were pretty pricey every time we checked.

Of course once we got all the way down to the city, checked into the hotel, took the bus all the way out to the park, and started partying with both Packers and 49ers fans, we just had watch Packers football at Candlestick. We wanted to be in the stadium, which is set to be decommissioned next year, since we had already traveled all this way. So we bought tickets – For at least half the price of everyone else's tickets because we were such last minute buyers! WHAT?!
Curtis informs me that this would never happen in Green Bay – the tickets sell out in advance and if you manage to scalp some they would be outrageously costly. But apparently San Francisco is no Green Bay (You don't say?), and I found myself seated at my first NFL game. Rooting for the wrong team. Who lost…. But still, it was so much fun! I mean the tailgating scene alone is crazy – people everywhere! And really I am not the #1 Packer fan (I root for the Lions when they are playing each other, and really I usually root for the game day snacks more than the actual game).
Beaut-Tree Site Updates & New Year's Resolutions
First off – I finally made a page summarizing all the Yosemite backpacking trips (plus a couple in the Sierra close to the park) I have been on.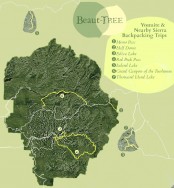 This had been on my to do list for ages, since I know when I search the internet for backcountry trips in the park I am often disappointed in the confusing cluster of information out there. I vow to try to make Beaut-Tree not add to that confusion from here on out. Plus, I now to take more backpacking trips to fill out more of the map! :)
Along with that one of my goals, especially for winter when I am getting out less, is to get up some trip guides/blogs from previous trips that I have not yet posted about. Look for updates about hiking to Ediza Lake and the top of Half Dome soon! I really want to try and post something at least once per week, since it seems like we really do get out and explore some nook of the Sierra every weekend.
Lastly – and this is the actual New Years Resolution: I want to expand my site to become more of a celebration of everything with "Beaut-Tree" (beauty, outdoors, etc.). I have been using Beaut-Tree as mostly a photoblog for my own interest up until now, but I want to test myself and see if I can draw in more traffic. Beaut-Tree after all already provides backpacking guides, awesome tourist trap information, day hiking destination ideas… I just want to make it more accessible! In addition to that I am going to try and include new content on backpacking DIY, preparation tips, and inspiration. In 2012 I want to be more prepared to tackle the trails then ever!