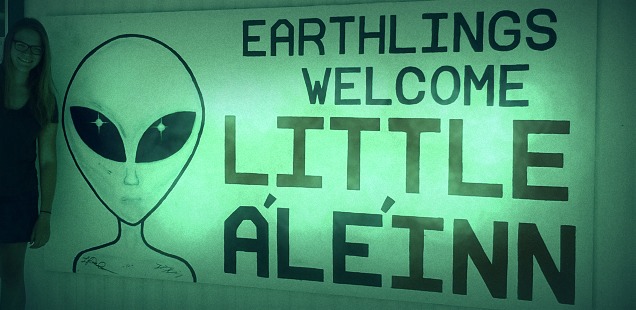 Passing by Groom Lake on the Extraterrestrial Highway (Area 51)
Normally on this blog when mentioning lakes I am talking about those gorgeous oases where I filter my drinking water, allow Curtis some free time to fly fish, or maybe take polar bear swim in to rinse off the sweat from a hard day of hiking. Groom lake is not one of those lakes. Groom Lake, better known as Area 51, is a salt flat requiring clearance from the  U.S. Air Force to visit… not your average wilderness permit.
On the drive back from Colorado, after swinging by Mystic Hot Springs, we followed our GPS further south on a major highway through Utah, before being spit onto the two lane roads that cut impressively straight lines across Nevada. I was unaware at the time that we were approaching Area 51. Unaware until I spotted a large alien lawn ornament outside an industrial looking – the Alien Research Center of Hiko NV – and realized our GPS had kindly guided us onto Extraterrestrial Highway.
I was thrilled. Curtis thought I was crazy (and he probably still does).
Extraterrestrial Highway
Directions: Along Nevada State Route 375. Rachel Nv and Hiko Nv appear to be the most hopping spots. Map.
One of my "Bucket List" items, as decided a couple years ago when I found it existed thanks to a vague google search, is to run the E.T. Full Moon Midnight Marathon (or half marathon, whatever I am up for). It is a run in the middle of the night down this flat straight highway tangent to Area 51. My dream is to run it for the kitsch. I imagine myself wearing a glowing alien headband, all the glowsticks, and maybe running hard enough to obtain a runner's high vision of UFOs in the distance. Who's with me next year?!
Sadly we didn't stop at the Alien Research Center, still having the goal of getting back to Groveland by the end of the day. Thankfully I did honestly need to use the restroom by the time we reached the Little A'le'inn, a bar, restaurant and motel – which is a quaint place with all the souvenirs one could want from the UFO Capital of the World. I picked up a guide on how to approach the boundary of Groom Lake for next time (Forget aliens – it is the government fines/arrests that are the real trouble for UFO enthusiasts) and vowed to be back in the near future. It turns out be were there the day after the marathon, so that leaves a full year to train for next one!
Passing through the Extraterrestrial Highway is a nice distraction from a full day of driving. I just wish I had more time to explore the tourist traps along the way!