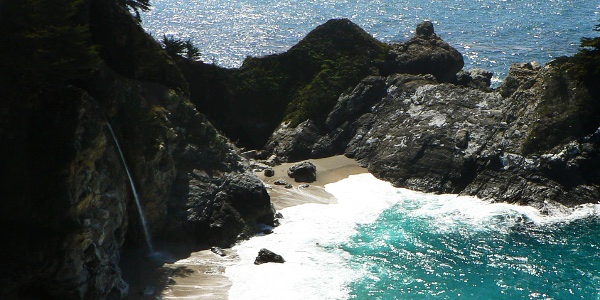 Pfeiffer Big Sur State Park Camping & Hiking McWay Falls
Tourist season is almost upon us again up in Groveland – slowly the local businesses are livening up, we are beginning to see a steady flow of traffic Yosemite, and I can hear the PML golfers outside teeing more and more often. These changes made me realize that if I wanted to go to any traditional popular tourist locations I had better get moving now, or face the higher prices and thicker crowds that true summer tourist season demands. Impetus enough for Curtis & I to make our (moderately spontaneous?) trip to Big Sur this weekend!
I call our trip moderately spontaneous because I decided 3 days before our trip to start planning it, which did give me enough time to reserve a campsite at one the reservable state parks along the Big Sur coast. Although it is more expensive (An $8 online reservation fee on a $35 campsite, really?), it was nice to know we had a campsite ready for us when finished the over 4 hour drive down to the coast.
Pfeiffer Big Sur State Park Camping
Curtis & I got off to a slow start because of some errands we needed to complete before leaving Groveland, and a stopover in the Monterey Whole Foods (This 30 Day Vegan in a Whole Foods was a like a kid in a candy store). We ended up pulling into the state park at around 6pm, right before the entrance ranger was about to leave. I was glad we got there in time for him to give us a little campsite map with directions because… wholly campsite overload! Pfeiffer Big Sur has over 200 reservable campsites available, and while there is adequate signage to find your way to your site it is much easier with the map.
Reviewing the car camping experience here I would say it had its minor positives and negatives. One of the plus sides of these mega-campgrounds is abundant number of bathrooms. We stayed at campsite #98 and the bathrooms with the showers were directly across the way, not that we showered at $1/5 min. On the downside the campsites are a little close together, especially if you get some neighbors with a boombox (and poor taste in music?). The most annoying aspect of the mega-campground is probably the large number of LOUD jays that take to the campsites in the mornings searching or any scraps of food anyone might have dropped in the night. My advice is to pack some earplugs and get ready for a party (or bring your own) of you are staying here.
McWay Falls Hike at Julia Pfeiffer Burns State Park
I did not get to explore around the Pfeiffer Big Sur State Park in the morning as I had hoped, instead rushing off to find a campsite for the next night at the non-reservable Andrew Molera State Park (more about in a latter post). Instead we focused our explorations in the similarly named Julia Pfeiffer Burns State Park.
When I had come to Big Sur for the first time last October with my parents we did not travel this far South along the Big Sur Coast. If they ever do come back to Big Sur again though I am going to insist we take this short one half mile hike to view these falls that splash out directly onto the beach. Both times I have traveled to the Big Sur coast it has seemed extra blue, almost florescent, but here with the waterfall and springtime flowers it was easy to imagine you had accidentally hiked off of the California coast and into a tropical Paradise.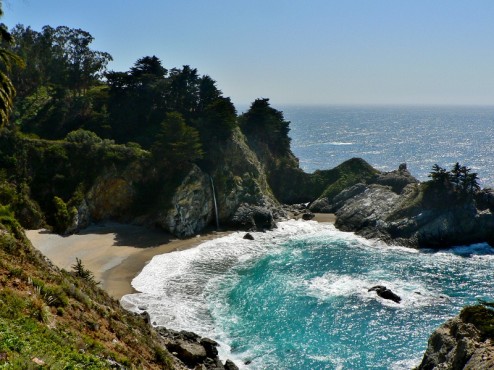 More pictures of our drive on the Big Sur coast, hike, and camp stay are in the gallery below. Tomorrow I hope to post about the hike we took after this one on the Tanbark Trail, which resulted in so many beautiful pictures it needs a separate blog post.