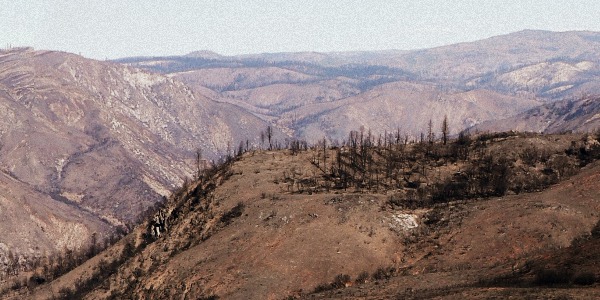 Post Rim Fire – after the smoke, before the snow!
It has been a few month since the last blazes of the Rim Fire, and Groveland is hunkering down for winter snow instead of the hot dry fire. Last week I set out to check out the landscape that the Rim Fire had scarred before the rain and snow arrived – visiting the "Rim of the World" vista point the fire was named after and driving up Evergreen Rd to take a hike along the one trail open in the old fire's perimeter. As the tourism department put in the New York Times, I wanted to: "Come see the moonscape!"
Rim of the World & Evergreen Rd
From the Rim of the World vista and driving Hwy 120 and Evergreen Rd is the most effective way to see the burned scenery. It no longer smells like smoke, as it did earlier this summer, and workers have been bust removing hazard trees. Needless to say though it is pretty obvious you are driving though a wildfire zone: Blackened trees, dead foliage, the spooky looking green mulch Caltrans has sprayed along the roadsides.
Plus, many signs reminding us that the forest is Closed, move along now, & Do Not Stop. Which is more of a problem for all of us trying to get our motoring done – because if you thought it was hard to will a slow car/RV to use the pull outs in the best of time, just wait until they are all lined with NO ENTRY signs with tape.
Hiking Past the Rim Fire
The trail bordering Hetch Hetchy to Wapama Falls and Rancheria Falls is the only part of the Northwestern park, and surrounding forest, that is open to hike. Plus, apparently, for the time being I was able to get in without paying the park entrance fee.
Overall the area around Hetch Hetchy appears to be mostly insulated from the fire – which makes sense since there it more granite than fuels around the lake. I enjoyed seeing how different some of the plants looked after the fire. And, as always, there was a bear to be found – this time after Wapama falls. I really do belive if you want to see a bear in Yosemite Hetch Hetchy is the place to go!
Given that it has snowed down in Groveland today, I doubt Hetch Hetchy is open – but I will be interested to check in on the state of things come springtime. More photos in the gallery below.