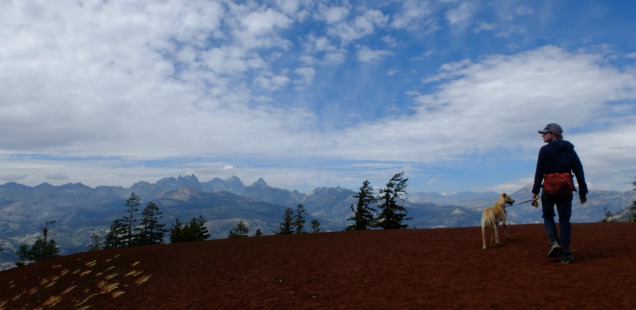 Red Cones, Mammoth Lakes: A little peak to add a little joy to your day(hike)
Recently, I have been feeling pretty unmotivated to blog. I've been keeping busy with work, and other work from home, and generally following the nastiness from the election cycle… which is tiring. I try to escape on the weekends: hiking, biking, and avoiding the internet. Energizing, right?
Unfortunately, all this escapism has resulted in a backlog of trips to beautiful wonderful places. A daunting backlog, like a full summer worth of hikes. Plus that spring trip we took to Switzerland.  WHAT?
Daunting? Yes. A long hike can be daunting as well – but you just got to take it one step at a time. So in honor of that I am starting small. On Labor Day weekend we bagged this miniature peak (high point?) in the Mammoth Lakes area. On a busy weekend, this small adventure was a perfect fit into our busy schedule.
Red Cones, Ansel Adams Wilderness & Inyo National Forest
Distance: We made a loop of this hike by meeting up with the Pacific Crest Trail after hiking to the eastern Red Cone. Our map was a little out of date, so after a bit of backtracking our total hike was 9.5 miles and 1650 ft of accent. Probably about 8.5 if you take the correct turns. About 7 miles to simply reach the red cones then turn around.
Trailhead: The "Red Cones Mammoth Pass" trail starts from a big parking lot next to Horseshoe Lake. To get here simply follow Lake Mary Road out of Mammoth Lakes until the end of the road. Map
The Red Cones was not our original destination when we started out of this trailhead. The original destination was the Mammoth Rim Trail. Scratch that, the true original destination for that day was a Labor Day backpacking trip in the Southern Sierra with Trails, Route, Aspen (the pup), Curtis and myself.  Turns out that finding day of permits with 4 people is kind of a pipe dream, so instead we obtained a next day permit. After receiving our permit Trails and Route split off to climb the Mammoth Crest, leaving Curtis and I to dog sit.
The trail starts out busy, and very well defined, as it climbs up from Horseshoe Lake to McCloud Lake. From there it seems like almost no one travels past McCloud, up to the sweet looking Mammoth Rim Trail… which might explain why the wasn't an obvious sign or beaten path leading us to the Rim Trail.  Actually, the split was so well disguised that it wasn't until we started descending into the forest that we realized we must have blew straight past the intersection. Oops.
Not to fear, down here is little mini loop with PCT, and perhaps these Red Cones are worth our time?
After spotting the eastern Red Cone from the trail we easily picked our way over to a use trail up the red volcanic rock to the summit of the cone. Obviously the prominence of the cone was nothing compared to many of the other peaks in the area, but it's still beautiful with the red rocks and lovely ring of peaks surrounding.
We then headed down to the Pacific Crest Trail for a brief  three fourths of a mile "Section Hike" (ha), before taking a slightly different trail back to the trial head. It was in this area near the PCT that the quad map that we had with us varied from the trail's actual path. I think this is because the trail was recently rerouted to avoid cutting straight though the meadow, and also maybe because of the wind strew tree falls have altered the route. Hopefully newer maps show the corrected route.
Overall a fun little peak bagging adventure. We followed up with a quick visit to Mammoth Lakes Brewery, and started planning for the big adventure the next day: Backpacking out of Lake Sabrina. More on that soon!