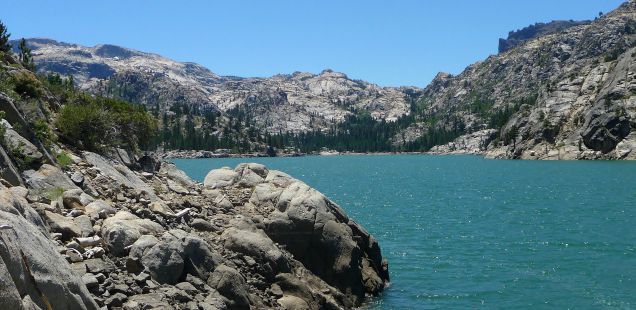 Relief Reservoir, Emigrant Wilderness: Aren't Dams in the Wilderness Odd?
Note: I now realize looking a little harder at the map (that apparently I made, then posted, without looking at closely) that Relief Reservoir is indeed not inside the wilderness boundary – rather just outside that imaginary line. But still I crossed a wilderness sign! And I have visited dams inside the wilderness before so, point remains – I think it is odd.
I have mentioned before, and will mention again, that the Kennedy Meadows trailhead is not my favorite. Based on the sheer amount of dusty horse poo one tends to ingest while hiking on dry summer days I can't really recommend it – but it does lead to some very cool places in the Emigrant Wilderness. That being said, day hiking instead of backpacking does lead to slightly less dust kick up – as long as you don't end up behind the slowest pack train in the world.
Despite my misgivings, I headed up the ol' dusty trail for a day hike to Relief Reservoir with my Tuolumne County coworkers in late July. It really isn't that bad of a diversion from the Kennedy Meadows campgrounds, and the reservoir is good for a chilly quick dip. Even with my wet suit I wasn't brave enough to challenge the cold water, and ominous looking dam, for a complete swim across the lake. Maybe if I was on the far end and could make a shorter transect further from that daunting dam!
Hiking to Relief Reservoir from Kennedy Meadows, Sonora Pass CA
Trailhead: Head into the Sierra on Hwy 108 (Sonora Pass) and keep going until you hit the signs advising trailers not to continue. Turn right here onto Kennedy Meadows Rd. I had stayed with my work team at the Stanislaus National Forest's Baker Campground, from which we walked – adding at least a mile onto the trip. There is trailhead parking halfway down the road, and those looking to fight for a spot can head up to the Kennedy Meadows Pack Station at the roads end to park for the day. Map
Distance: 3.5 miles from start of trail at Kennedy Meadows Pack Station to the reservoir, 1400 ft elevation gain, according to the Garmin (7 miles round trip, most elevation gained going out to reservoir)
As you might be able to tell from the blog title – I find visiting reservoirs, especially ones you have to hike miles to get to, an odd wilderness destination. Albeit if you have a 4WD vehicle there are much shorter ways to get to Relief Reservoir, but PG&E had to set up a helicopter base near the start of the trailhead to get in materials to do dam maintenance the other year! It just seems a little impracticable. Also, not quite like wilderness – but moving on…
The trailhead starts out fairly level for the first 1.5 miles, crossing a solid bridge over the Middle Fork Stanislaus River. It then begins a steady accent, hugging the rock face and crossing again over an impressive bridge. At the fork continue right to Relief Reservoir, not Kennedy Meadow. At the top of a hill there will be a historic peace of rusting mining equipment (steam donkey?) near trees. Here we had split to right from the main trail and head down a use path to the reservoir. There are many way to approach the reservoir, all of them requiring a some scrambling. Meanwhile watch out for all the rusty "historic" nails and such littering the ground here.
Overall, as long as you don't get all upset over the horse crap, this is a pretty interesting hike and fun little lunch/quick dip spot. If you don't want to continue all the way to the reservoir the meandering stream about a half mile from the trailhead could make a nice lunch/fishing spot, or continuing to one or both of the bridges would be a nice little escape from camp.