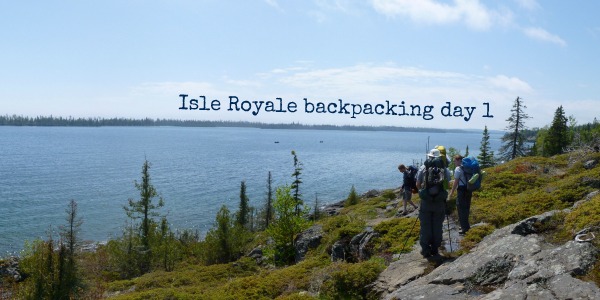 Rock Harbor to Daisy Farm: Backpacking Isle Royale Day 1
Over the extended Memorial Day holiday 2012 Curtis and I met up with our favorite backpacking Midwestern friends – Jacquie, Dan, Kris, and Kate – to spend 5 days backpacking Isle Royale National Park. It was amazing to get to one of the US's least visited national parks so near to our alma mater Michigan Technological University and once again feel the chilly breeze, see snow hardy forests, and smell fresh waters of lake superior. Other blog posts will relate each day's hike.
Navigate to the Backpacking Isle Royale Page to read about other days of our trip, or continue on to read about boating & hiking on day 1…
When someone who lives in the Sacramento or San Francisco area tells me that they have never been Yosemite National Park it is generally greeted with a dubious look, meaning to simultaneously say "I'm so sorry," and "Why the heck not?" Which is judgmental, and very pot calling the kettle black, of me because I had lived in Northern Michigan with never going to Isle Royale National Park.
In my own defense the  50 miles separating my home in Houghton, MI from Isle Royale was over Lake Superior, which requires upward of a 3 hour boat trip. Making it harder for someone only in town during the fall and spring semesters, the park is essentially closed in the winter with no boats providing transport to the park between late fall and early spring. And then, once you get there, generally everyone spends 4 or 5 days in the park. This is no weekend trip, so you best not be studying for exams!
Summer 2012 was the summer to change these excuses for not going in superb reasons to do it now while we still could. Curtis and I flew from our home in California to Wisconsin, where we meet up with Jacquie and Dan, and then drove up to Michigan, were we collected Kris and Kate, for the best (and only) Isle Royale backpacking trip any of us had ever had.
A backpacking trip to Isle Royale starts with a boat trip, our boat was the Isle Royale Queen IV which leaves out of Copper Harbor. It is manned by an honest local man who could tell that it was going to be a bit of a rough ride, making for minimal snack stand sales. We should have foresaw this happening what with a CRAZY and AMAZING lightning storm over lake Superior the night before, but we did not have much of a choice since we had already bought the tickets and all. Lucky I was able to sleep away the sea sickness and arrive rested, if not slightly queasy, at Rock Harbor a bit over 3.5 hours later.
The plan for the day was to TRY to get to the Moskey Basin Campground from Rock Harbor via the shoreline trail. While the trail following the shoreline is the shortest route between the two destination, and is very pretty in places, it is (especially after the previous night's storm) a super soggy walk. Isle Royale is not a place to forget your waterproof boots!
Between our late start and wet mess of a trail the team decided to call it a night at the Daisy Camp campground. Daisy Camp was still a wet place, but has many platform shelters so no one had to set up their tent in the muck. Probably because I had not looked into Isle Royale as much as I should have before the trip, I was not aware that most of the campgrounds had quite a few platform shelters to sleep in. These were big enough to fit all 6 of us and gear and provide some good reading from all the graffiti littering the walls. Additionally, Daisy Camp has a very nice beach which if we had more time could have been a site to a cool midday swim and sunbathing
Below are some of the pictures we managed to get before and after the fog lifted, including: the first loons, some common snipes, and the Rock Harbor lighthouse.