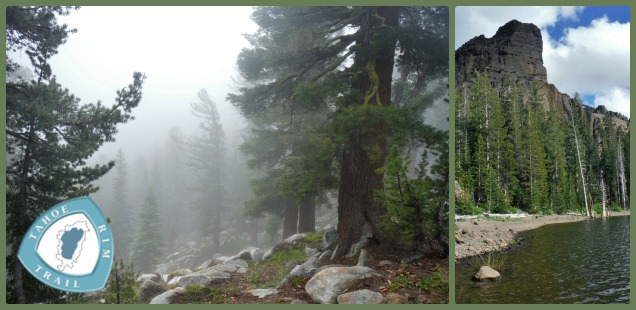 Round Lake, Tahoe Rim Trail – Day 2
Beginning June 25, 2014 I thru-hiked the Tahoe Rim Trail (TRT), circling Lake Tahoe in 12 days. Accompanied by my friend and fellow blogger, Trails, we bravely took on this 165+ mile loop. I will be blogging a day-by-day rundown of each day's hike, night's campsite, and my contemplations while beating down miles. Check out my complete trip report for the TRT here – This is day 2.
Sometime during the early morning hours at Star Lake a it started drizzling. It wasn't a hard rain, but the wind can really whip up the canyon there if it wants to. Trails was a trooper and ran outside to pull our packs under the rainfly – maybe it would stop by morning time?
Despite our hopeful thoughts the rain did not stop. We hid in the tent cooking and packing up after waking, but it was inevitable. We had to pack up one wet and heavy tent, put on our pack covers, and brave the weather.
But here is the thing, I kind of enjoy weather. Maybe it is because I grew up in Michigan and have nostalgic memories of walking to college though snow drifts in the Upper Peninsula… But yeah, bring it Summer Sierra weather.
Of course I am probably looking back on this singular day of rain on the TRT fondly because it did clear up my afternoon. We were even able to dry out the tent prior setting it up that night! I think that might be the moral of the story here: if you don't like the weather in the summer Sierra just be patient – It will probably clear up by the afternoon.
And that is the story of the one time it rained on my TRT hike #SpoiledSierraBackpacker
Also, this is my theory why there is a beautiful sunny day on the Sierra Nevada Summerfest beer bottle- because it's TRUE.
Hiking the TRT from Star Lake to Round Lake
Mileage: 17.5 miles. ~600 ft climb to Freel pass, then you drop down 1000ft to Armstrong pass only to once again climb ~6oo+ ft,  then hike a long 2000 ft decent to the Big Meadow Trailhead. Round lake is a (relatively) short uphill hike after that.
Water Sources: The streams around Freel meadows were running when we went though. I was a wet day though?
Even though we set an early alarm for this long mileage day it was a struggle getting started in the morning. Approximate start time ended up being at 8am. Because I was so distracted by the weather though the first half of the day went fairly quickly. That and Trails essentially ran the entire way to the Big Meadow Trailhead to keep warm.
Here is some wisdom, if you need to use the restroom at Big Meadow Trailhead – you don't need to drop your pack and jog the quarter mile down to the campground latrine (then back). Instead try the restroom at the parking lot on the other side of the road. Ugh… I guess I just wanted to put a nice round 18 miles under my boots that day?
Round lake is cute (circular!) little lake, surrounded mostly by woods and a couple neat rock outcroppings.  Only 3 miles from the Big Meadow Trailhead this would make a nice day hike to a swimming lake or short backpack. I liked having a nice little beach to stretch on, even if some bug spray was necessary.
More photos in the gallery below & continue on to day 3, or find links to all my TRT blog posts in my Tahoe Rim Trail Trip Report.