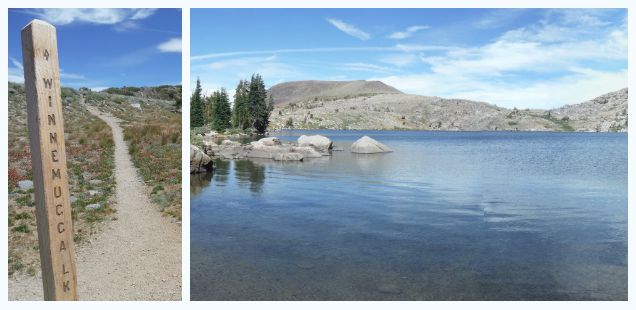 Round Top & Winnemucca Lake Loop: a 5 mile Jaunt from Campsite to High Country
Earlier in the month I happened on a new hiking book in the library, Alpine Sierra Trailblazer. The hiking, biking, and skiing guidebook covers the area between Sonora Pass and Lake Tahoe. As luck would have it I soon found myself visiting the Tahoe area in early August without any game plan… meaning it was a great opportunity to put this book to the test!
I chose to visit Highway 88 corridor, where previously I have only stopped during a singular winter adventure in Kirkwood. The book listed a plethora of options along Carson Pass: Alpine wilderness? Check. Swimming Lakes? Check. Many campgrounds available first come first serve? Check!
New hiking books or maps can spark a desire to visit somewhere that was not even previously on the the 'To Do' list. Often I look to hike close to home, but what is a couple more hours on the road when car camping? Sierra Alpine Trailblazer has turned out to be a constant companion in many recent adventures. Who knew I would spend so many weekends north of Sonora Pass this summer?
Hiking from Woods Lake to Round Top Lake and Winnemucca Lake, Mokelumne Wilderness
Trailhead: I arrived from the east on Highway 88, passing the Forest Service visitors center and very busy parking lot that is the primary access for Winnemucca Lake from the PCT. Turn left towards Woods Lake after a little less than 3 miles further down the road. There is a large Forest Service sign. Follow the road to the Trailhead (fee) – or I continued to the campground to snag a spot. Map
Distance: About 5 miles. I ended up hiking more and exploring around Lake Winnemucca. About 1300 ft elevation gain. Uphill on way out to lakes and downhill on way back.
I choose to stay at Woods Lake Campground overnight at the suggestion of Trails – which alleviated the need to pay for trailhead parking. Also the "Lost Cabin Mine" trail starts directly behind the campground – which I didn't actually know (this wasn't in the book, and I did not stop to get a map since the Forest Service visitors office parking lot was PACKED). I walked up the road to the trailhead and chose to the take the lost cabin trail from there up to Round Top Lake.
One fun game to play when you only have a book, and no map, is to read between the lines and figure out which trails connect to make a big loop. Some books and trailheads are really good about marking out loops – but Sierra Alpine and the Woods Lake trialhead was not so informative. I knew there was two trails from the trailhead, one leading to Winnemucca Lake and the other to Round Top lake plus the book mentioned a trail hitting both lakes.. Should be easy?
(Note that this is a very busy area & I was confident there would be the signage to follow. Also, there was ALOT of daylight left, so if I needed to simply turn around that would have been a viable option. Loop finding adventures is only a game if it is a fun time. Personalty I would probably not find it fun if I was somewhere like the Toyiabe National Forest where the trails look like cowpaths, and the cowpaths are trails, unless I had a good map.)
The Lost Cabin trail is named so because it passes by some old ruins – rusty car pieces and cabin siding- before traveling up into the Mokelumne Wilderness and Round Top Lake. This is the steeper of the two trails leading from the Woods Lake Trailhead. I liked traveling up it instead of down, but choose your poison if taking the loop.
Round Top Lake emerges at the top of the trail as you enter the alpine landscape, surrounded by the near and far volcanic peaks. It is teal blue and very cold. Resting my feet in the water and eating lunch I decided it wasn't going to be a day for swimming (BTW: Winnemucca Lake is larger and colder than Round Top). It is possible Pikas might  emerge from the scree behind the lake, but none did so during my mid afternoon lunch break.
My imagined loop became a reality at this point, a sign was clearly pointing to Winnemucca Lake here. Descending to the Winnemucca lake, with Round Top Mountain looming above, is a fantastic vista. There was a number of hikers at Round Top Lake, and even more down at Winnemucca. Fact: At Winnemucca Lake backcountry campsites are numbered. While probably a great way to minimize impact, this is the first time I have seen numbered backpacking campsites in the Sierra.
After enjoying another foot bath in the freezing waters on Winnemucca I contemplated climbing to the top of the Elephants Back ridgeline, before getting distracted by some small tarns above the lake and deciding to turn back because of the large boulders along my chosen route (why did I not buy a map?! Oh yeah, the parking…)
Overall the loop was a nice little hike, not taking nearly as much time as I allotted for it. I would consider the Lost Cabin Mine trial the more scenic way, but the Woods Lake to Winnemucca trail isn't a snorefest either – plus less steep. It was great to hike this beautiful loop that started and finished at my campground… It feels almost selfish to end a hike by walking back to the car, grabbing a book and a bottle of wine and continuing on to relax without even needing to go anywhere else. Solo car camping at it's best?
More photos below: