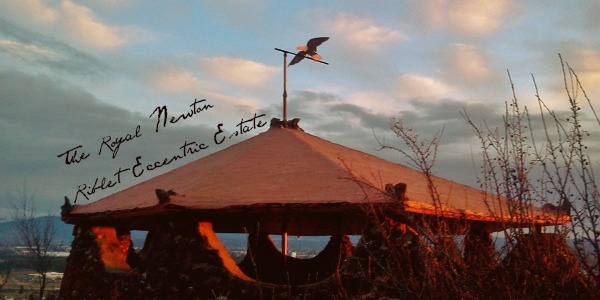 The Royal Newton Riblet Estate (Tourist Wine Trap!)
When I first arrived at the Arbor Crest estate tasting room in Spokane, Washington I had the mis-impression that this was going to be your typical wine tasting.
"Oh yes, blackberry notes with a full body. Wait isn't this a white wine?"
Nope. This was not a trip about the wine – this was a trip about the Arbor Crest Estate, an estate owned by one Royal Newton Riblet. According to the brochure Mr. Riblet invented the chairlift, among other things, which he then installed (a chairlift) along with a vast array of other delightfully arbitrary things on his estate. I, of course, took to calling it the Riblet estate immediately.
Unfortunately at some point in time the chairlift to the estate was removed, but we are still left with some great eccentricities: The miniature clock tower, turreted office space, a life sized checkerboard, and the 6,000 gallon swimming pool. Standing on the grounds I just enjoyed imagining Mr. Riblet walking out off his office at the 5pm chime of mini-clock tower and glancing over to his pool thinking "By golly, it looks like there is only 5998 gallons in there today! I will have to speak with the gardener tomorrow."
Nice try with the wines Arbor crest, but I think we all know the Estate is the true star of this trip. More photos in the gallery below.