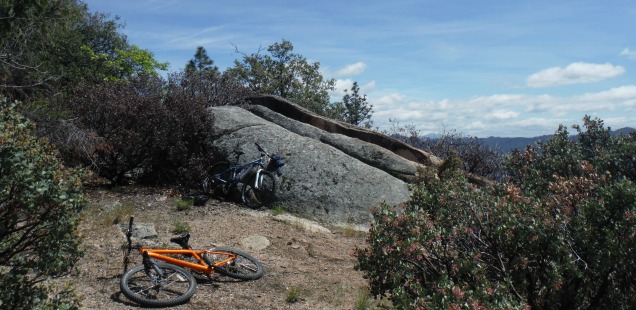 Sawmill Mountain, Stanislaus National Forest: The first of many Mountain Bike Adventures!
I'm not sure why I finally decided to do it, but I have gotten myself a mountain bike. She is a Novara Madrona 27.5, which I used Curtis's 20% off membership discount on at REI… and I have SO MANY new places can now explore with it. Maybe they will seem like odd choices, but I haven't been able to explore around Groveland and the Stanislaus National Forest as much as I have wanted because I don't 4WD and hiking down a road seems ridiculous (and uneventful)… BUT with a bike it is a world of possibilities.
Sawmill Mountain is one of those places. Along the way I found that the road leading ALMOST to the top is in good enough condition  that I could have driven a passenger car up there). It's the final stretch you need a bike, or your feet, or some 4WD vehicle.  Biking that last half mile was a little rough – meaning steep – but it's worth it to finally check this local peak off as bagged. Right?
Mountain Biking the Stanislaus National Forest – up Sawmill Mountain!
Directions: From Highway 120 the big sign pointing out "Sawmill Mtn Area" is about 17 miles East of Groveland. Turning at the sign will take you up FS route 1S03. Continue up the road until the pavement ends, there will be a fork to the right that goes up while (FS Route 1S04). We parked here. Map
Distance: 5 miles roundtrip from our parking at the bottom of 1S04, my phone GPS read 1135 feet of elevation gain. You could drive to the top of 1S04 and walk or mountain bike from there and it would only be half mile to the top (1 mile round trip). You would fail to get your workout though! Trail Map
I have passed the Sawmill Mnt Area sign approximately one-thousand times, and thought I should really go to the top sometime. Now that I had a mountain bike I decided it was time to make that dream a reality. After parking on at the fork the ride up is a steady climb on a nicely maintained road. We turned right onto 1S76 a little after a quarter mile up the road. There was one other point were it seemed like there was an intersection, but it wasn't really. Just continue to pick the route uphill.
After you get off the main road the route become more of a do-able track, and it seems like someone must have built a couple jumps in here for the hell of it. Unfortunately I am not ready for jumps yet, so I just slowly rolled down those while panicking.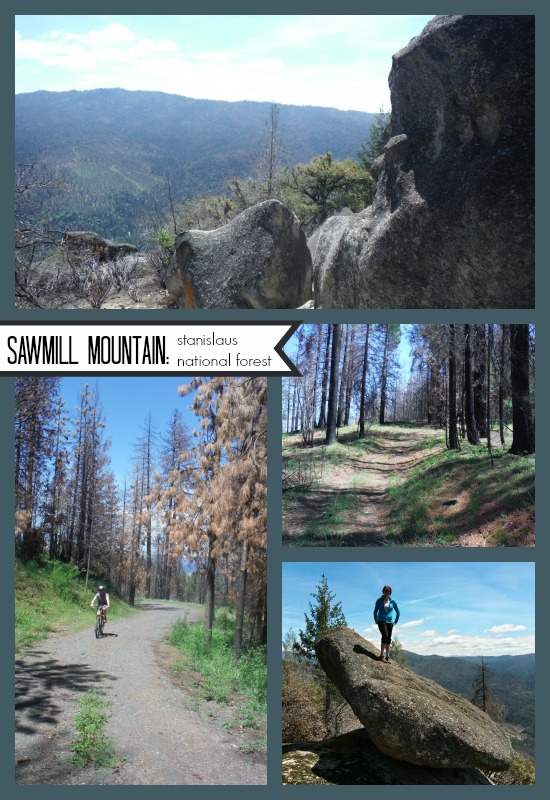 Once you get to the top you will find a nice little foothill peak, 5,262ft at the summit. Not anything rugged or glamorous like the high sierra, but it has some nice boulders (the true summit looks to be at the top of a technical boulder climb), and nice views looking south towards Hardin Flat and Pilot Peak. Also at the top is a little fire ring, which could be a sweet little overnight spot. Not sure if I would feel comfortable lighting a fire while surrounded by Rim Fire scars, but maybe someday it will rain again.
Note that we did this bike in April, while the temps were cooler. It can get hot in the Stanislaus in the summer so plan this as a morning trek before it heats up. It's a nice little Groveland adventure, the first of many on the new bike!