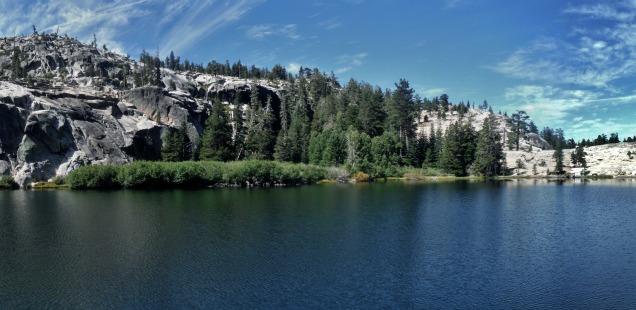 Shealor Lakes, Eldorado NF: Hike, then jump, into this perfect swimming lake
After packing up camp Sunday morning I wanted to have one last short adventure on Highway 88 before heading back home to the my poor abandoned pets. It had only been a two nights without human affection, but considering it was only me coming home (Curtis was currently on a week long trip with some college friends), the pets can become a special type of monster. Especially the cat, he is an affection beast.
I choose a short hike to Shealor Lake to get in a quick #wildswim, plus the trailhead was located on my drive back home. I was a little bummed that I didn't get in any swimming earlier this weekend at Round Lake (frigid), Winnemucca Lake (more frigid), or Woods Lake (I really didn't want to upset the fishermen & coincidentally it smelled kinda fishy in there) – time to finally get my swim on!
Hiking & Swimming Shealor Lake, Eldorado National Forest
Distance: 2.6 Miles out to the lake and back.  A little less than 250 ft elevation gain on the way out,  450 ft elevation gain on the way back.
Trailhead: There is a nice sized parking area off of Highway 88, which is pretty easy to find – although I passed it the first time because it is really easy to pass when cruising down that highway at speed.  Look for it on the opposite side of the road (West) of Silver Lake, a little less than a mile south of where the road crosses the dam. Map
The hike to the lake takes you up a small granite ridge with some vistas of Silver Lake and the surrounding mountains, then zips you back down several long switchbacks to the main Shealor Lake. I hiked this before noon, meeting a few more backpackers than I had expected heading back from their overnight stay at the lake. They assured me the water was great, and I dashed down – anticipating a couple of large family groups I had passed hitting the same shores very shortly.
True story, it is a pretty ideal temperature lake. The first rock outcrop you meet off the trail is probably the best to enter the water without having to touch the (gross) muck… but as soon as a big group shows up you will undoubtedly be sharing it. I managed a quick swimming before heading up to higher ground to let some kids play on the rocks.
A few other Shealor Lakes are supposedly hidden just north of the main lake, but without a map I wasn't about to go on a wild goose chase. They look significantly smaller, so they might be good bet if the main lake is too cold for your tastes. As it was, I think it was about a perfect temperature.
Completing my mission I quickly climb back up the ridge, then drove homeward to those pets. Turns out Curtis and his friends had spent the night at the house the night before because of a situation that occurred with their cars, a side trip, and a wildfire blocking off the access to their campsite in the Saddlebag Lake area. Herman, my cat, barely acknowledged my return because he was so content from spending the night with the boys. Whatever Herman, next time maybe I will make a more leisurely trip of it since you don't care!