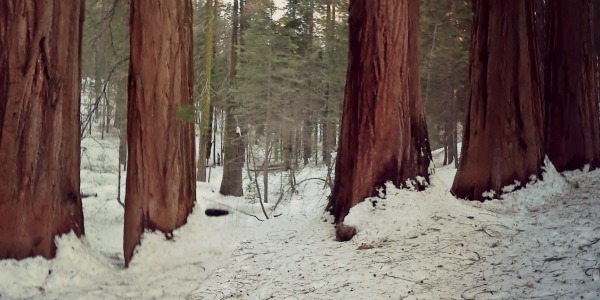 Snowshoeing the Merced Grove of Sequoias
Guess who is ready to put their new-ish snowshoes in actions? That's right – This girl.
Curtis and I got new snowshoes last year on SUPER SALE near the end of winter. I think was sitting at home either looking at various articles about how to choose snowshoes, and of course which ones were affordable, when I Googled these Tubbs Flex Esc Snowshoes and found them for $60… Sixty dollars for legitimate snowshoes! But of course, as always when you get fantastic end of season sales, you really only get to use your new goods once or twice. Thus after we started getting some snow up in the mountains I started my campaign to get us out.
Pro-Tip: Snow Melts after a week long warm spell in the Sierra …Especially if you are lazy people who don't want to drive all the way up the mountain: Our Saturday snowshoeing attempt on the Stanislaus turned into a muddy hike. So on Sunday we pushed on into the park determined to crunch our way through the old icy snow down to snowshoe the Merced Grove of Sequoias.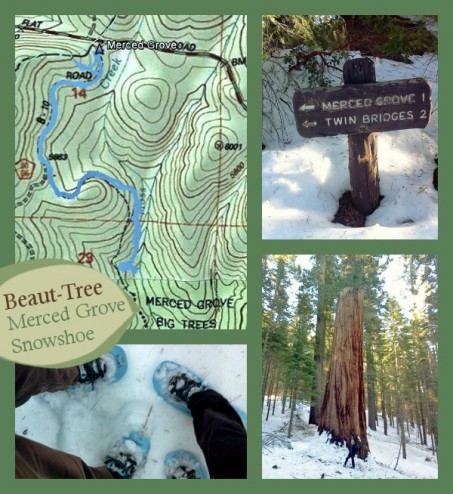 Merced Grove Snowshoeing Trail
Trail head: Merced Grove off of the Big Oak Flat Rd / Hwy 120 (Inside Yosemite National Park)
Distance: 3-4.5 miles depending on if you get distracted and snowshoe off the trail too far
Time: 2.5 hours snowshoeing
We haven't been down to the Merced grove since two summers ago, and we have always hiked down. I have previously always vetoed the trail in the winter because of the steep-ish and curving slope of the second half of the trail. I am fairly awful at turning on downhills in my cross county skis, but now that we have snowshoes that wouldn't be a problem. Bonus: This winter outing though would allow us to travel off the trail (without leaving a permanent trace), to see a few of the Sequoias you can normally only peer at through the trees in the summer.
We started by snowshoeing up the ridge line to the right of the trail to experience some fresher snow, and see our only mountain view on the hike. Since we didn't pack a sled (Major oversight!) we then hiked back down to the trail and started on the beaten path. The trail to the Merced grove follows the old big-oak flat road into the park, making it an awesome wide trail for cross country skiers and snowshoe-ers to share. Which of course isn't what happened – Trail Etiquette People! – with snowshoe print meandering everywhere, and a good number of (non-aided) hikers leaving deep imprints into the path. And, holy ice-snow Batman! Next time we might need to bring earplugs if we are going to make that much racket snowshoeing on ice.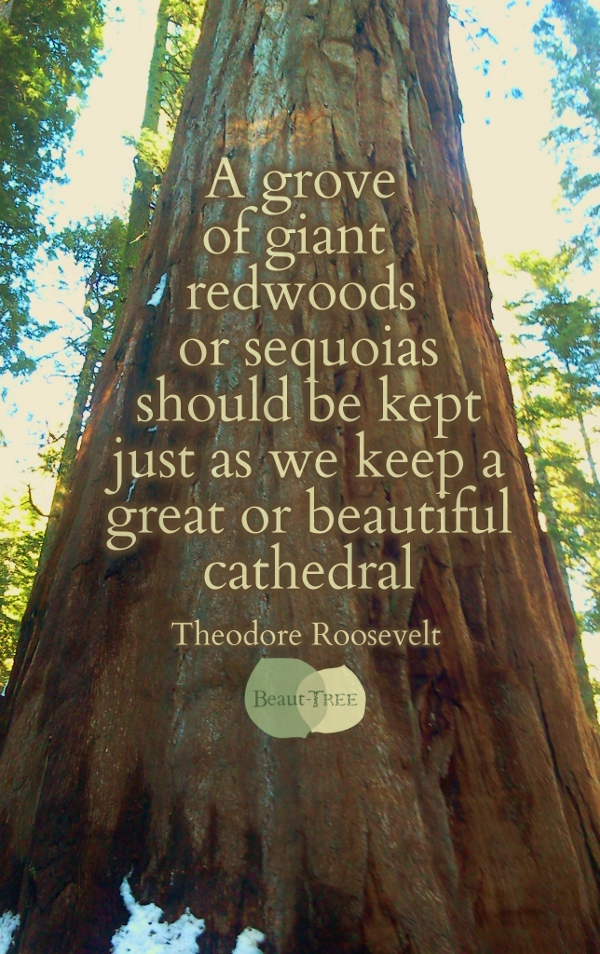 Once we did make it to the 5 Sequoias that you find in the draw you just veer left (there is probably going to be a few other snowshoe tracks doing this too) down the draw towards the river and you will see one more big Sequoia and three big ones on the opposite side of the stream. They aren't as big as Grizzly Giant, but definitely still wider then you are tall! I always love marveling at how tiny we look compared to these trees. They always make the hike more than worthwhile!
Snowshoeing out from the Merced Grove is that slightly annoying not very steep but never ending hill for half of the journey (since you went downhill on the way there). Persevere and the second half is flat, and you might see some poor cross-country skiers who are much braver then yourself.
We forgot our backpack at home with the camera on this trip, so we only have pictures from our Android! It was a make it work moment. You can see more of these pictures below: