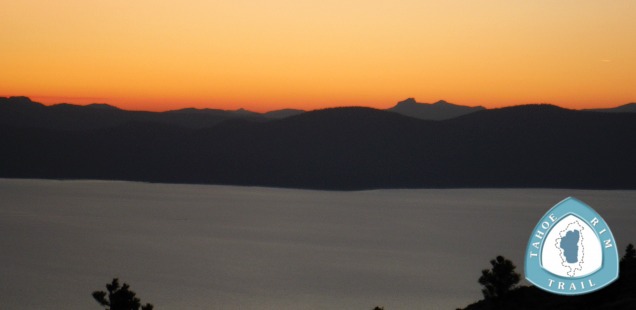 South Camp Peak, Tahoe Rim Trail – Day 11
Beginning June 25, 2014 I thru-hiked the Tahoe Rim Trail (TRT), circling Lake Tahoe in 12 days. Accompanied by my friend and fellow blogger, Trails, we bravely took on this 165+ mile loop. I will be blogging a day-by-day rundown of each day's hike, night's campsite, and my contemplations while beating down miles. Check out my complete trip report for the TRT here – This is day 11.
Last full day on the Tahoe Rim Trail – Crazy, right?! It seemed like just a few days and couple baby toe blisters ago that I had just started. Time flies when you are having fun… or slowly convincing your body that it CAN make 165+ miles.
The number one thing I "learned" (re-learned?) on this trip is how much a hiking routine helps to get the miles done whilst remaining sane. I mentioned the game plan of getting up early & dealing with blisters in the evening at camp, but both of those were part of a larger daily routine Trails and I adopted.  Our routine was not super uptight, but allowed us to streamline some tasks and make sure we were always on the same page. For example we discussed when / where we were hiking to every night, generally had an idea of when we would arrive at camp each night, we knew who was going to do what in camp, and most importantly we always kept tabs on the water the  situation on the trail (when, where, how much we could find).
When the boys arrived to hike and mountain bike with us they were a welcome disruption to our routine… most of the time. (Jk, jk, they brought us food & wine – what would we have done without our friends!?)  But more troublesome then trying to plan with both hikers and mountain bikers is a dealing with an unexpected disruption placed there by nature/fate/poor luck. This was Spooner Lake, our last water source before a final few miles on the trail.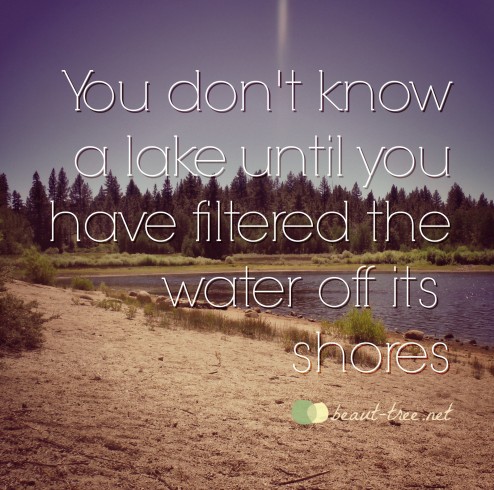 Spooner Lake is a mucky lake, located a half mile off trail from the Rim Trail. It is a beast to filter, especially after your filter has been through the ringer on the rest of this silty trail, and tastes like Attack of the Swamp Creatures. Also if you need to scoop out water you need to wade into muck, which is potentially filled with leeches btw, to try and reach a slightly clearer water.  Then if after all that you think that there are water pumps available in a parking lot down the way… guess what? All of them are broken.
All told it took us well over an hour to filter enough water for all 6 of us and afterwards we still had to hike 5+ miles to camp.  It made for a long day, but after it was all said and done we did drag into our planned campsite. Yes it was difficult and annoying, and that water tasted really terrible, but it despite that we earned the most amazing private sunset over Lake Tahoe. Worth it.
Thru-hiking the TRT From Marlette Peak Camp to a dry camp @ South Camp Peak Tahoe
Mileage: 15.1 Miles.  650 ft elevation gain to Snow Peak first thing in the morning, then a 1800 ft descent to Spooner lake where we grabbed water and lugged it back up ~1700 ft to dry camp.
Water Sources: No water on the TRT after Marlette Peak Camp. We hiked a half mile down to Spooner Lake to refill water. Spooner Lake is a silty algae filled mess but the water pumps in the parking lot were out of order. We ended up spending 90 min filtering water then ending up with the WORST tasting swamp water of the whole trip to haul up to dry camp.
We started at 9:30 after sleeping in after our "late night" firework watching. Leaving from Marlette Camp us hikers continued down the TRT up to Snow Valley Peak and the bikers had to take an alternate route down the Tunnel Creek and North Canyon Trail (No bikes allowed on the Snow Valley section of the TRT). Snow Valley peak is very beautiful stretch of trail with amazing views of Marlette Lake and Lake Tahoe, I would recommend it for a TRT day hike.
After descending to the Spooner Lake intersection we met up with the guys to start our water filtering saga. The half mile access trail between the TRT and Spooner Lake requires a $1 use fee per person and, to our surprise, had a "no bikes" sign posted. After talking with some locals we found out that the trail had previously been open to bikes and this was a recent change. Because this was our only route to have the bikers join us on the TRT  we all agreed that walking the bikes would have to be alright. I don't think anyone minded?
The final stretch of day 11's hike  started across busy Hwy 50 to our planed day hike. It was a rough hike up carrying extra water for camp and day 12. I am glad we only dry camped once. After a couple finally pushes we arrived at our campsite just off of the TRT next to South Camp Peak. We didn't see any obvious tent spots, instead choosing to set up camp among the sagebrush with a wonderful view of Lake Tahoe and the Desolation Wilderness behind it. It is crazy that it had been 6 days since I was there in the Desolation and the next day I would be back to were I started the TRT. This was a great last camp spot, allowing us visually trace around our route and remember some of our favorite places along the trail.
More pictures of day 11's hike and campsite on the TRT  in the gallery below. Continue on to day 12 or find links to all my TRT blog posts in my Tahoe Rim Trail Trip Report.