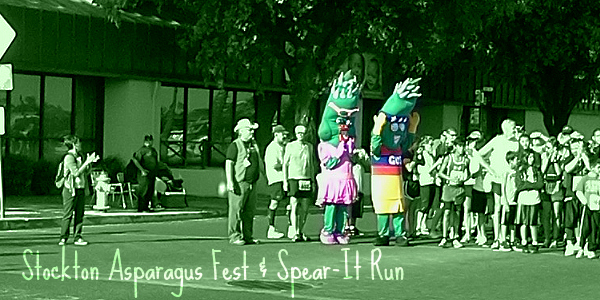 Spear-It Run at the Stockton Asparagus Festival
I am a sucker for a good produce based festival/event, and likewise I have been saying that I needed to attend the Stockton Asparagus Festival ever since I found out it existed… I think it is advertised on a water tower? Or everywhere, because it  is the event in the Central Valley (obviously we are exciting people). BUT – I almost forgot to go again! That was until while looking for a last minute 10k to run and I found the 5 mile Spear-It Run, complete with Asparagus Mascots. Asparagus Mascots.
I signed up.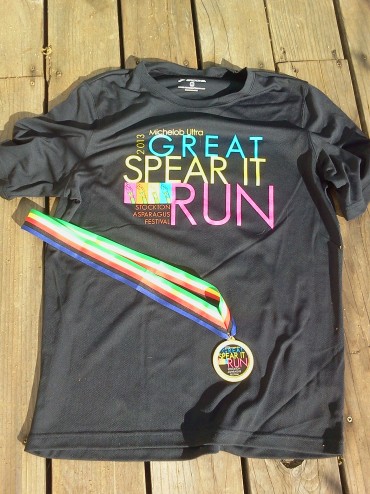 5 Mile Spear-It Run Stockton
Location: Weber Point Events Center, on the Stockton Waterfront (AKA: At the Asparagus Fest Location!)
Course: Two loops back and fourth down Weber Ave, ending near the Main Stage in the Asparagus Fest Location. Yes, it was repetitive – the 5k had the same exact course but without a second loop.
This Race was probably the flattest course I have ever run on, with maybe the exception of the 5k Course through a cornfield we ran in high school being equally flat, but still super flat. I kept thinking as I was running: "If I had to go up a hill at this speed/point in time I would get super tired and/or upset at myself for running so fast prior…"  but it did not matter because there were no hills! I ran a sub 8 minute mile, which is super good for me. Plus, this is not a very large race (more runners did the 5k than the 5 mile) making it easier to earn a medal for my age group. #1 20-something = Gold medal! ;)
It sounds like the Asparagus Fest is thinking of changing venues next year – which is a shame because I enjoyed the waterfront location. Instead I would suggest some changes to how they run the 5k, mainly: If I pre-register for a small shirt you should save me a small shirt (!), photo-ops with the Mascots after the race (!!), and please for the love of everyone's time make the awards ceremony go faster (!!!). I swear the awards took longer than it took me to run the race. Plus the mayor had left by the time they started the 5 mile awards, which is a little tragic since I would enjoy a picture with the Stockton mayor for the randomness of it all.
The Asparagus Festival
Included in the race registration is entry to the Asparagus Festival, which rolls around to starting around the time the race is finishing. The festival is way busier and bigger than Curtis and I imagined. We visited the amazing & adorable stunt dog performers (If I get a dog I better work on my Frisbee throwing skills!), the sea lion encounter, and Curtis tried out his luck on the hole in one golf course (10 points if you hit a yacht?).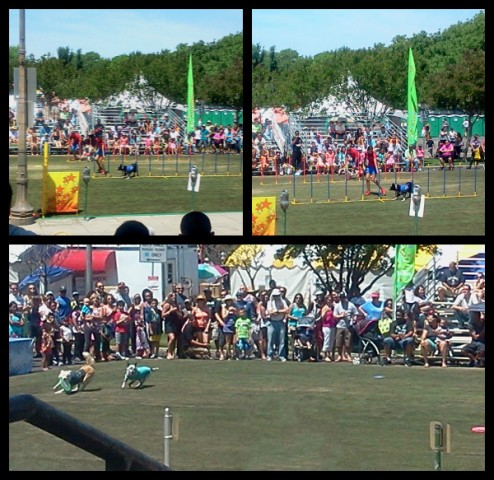 And the food! Between Curtis and I we tried the deep fried asparagus, asparagus sliders, asparagus ice cream, and lots and lots of water! All a bit pricey, but you can't help but want to eat some asparagus at the festival. I just wish water was less than $3 – I think we might have stayed for longer if we were not so hot and dehydrated. I will just have to wait until next year to try an asparagus margarita ;)