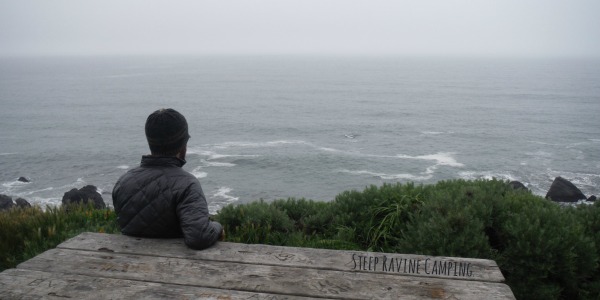 Steep Ravine Camping – My Favorite Campsite in California???
Last weekend I took a trip to the coast, North Bay Area, following a short work stop for Curtis in the bay area …Did you know the California regional forest service office  is located on a strange abandoned navel island? Neither did we... Anyhow, it was an extended weekend of wet camping, wet backpacking, and then 'I can't bear to be wet at a KOA next to a dozen screaming kids so let's upgrade to a cabin' camping. More on the latter two in future blogs – here I want to talk about our first night camping at Mount Tamalpais in the Steep Ravine campground.
Mount Tamalpais State Park, thankfully called Mt. Tam for pronunciation simplicity, is located just North of Muir Woods outside of San Francisco. Apparently there are various great hikes at Mt. Tam and linking Mt. Tam to Muir Woods, as well as some walk in campgrounds. We visited Mt Tam just for one night at the Steep Ravine Campground. As it turn out, it was one rainy night of Pacific Ocean camping splendor, and probably my favorite walk-in campsite yet in the state of California.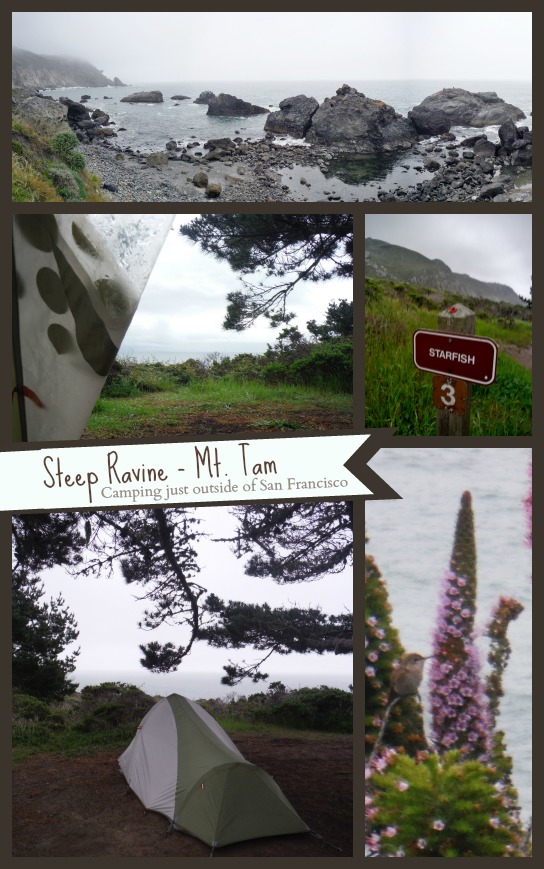 Normally I am not the type to pick out the swanky car /walk-in camp, instead I choose camps purely based on how close it is to the adventure planned. In fact, I ended up looking at Steep Ravine because it is located close to Point Reyes, close to our backpacking adventure the next day. Really this means Steep Ravine does have it all, a great location for Point Reyes visitors and swanky destination campsite.
Steep Ravine campground and cabins are located down a gated steep road (to keep out the non-reserved campers) on bluffs overlooking the Pacific.  The cabins dotted on the bluffs in perfect postcard fashion, and the campsites are all within a couple steps of ocean overlooks. Better yet, the walk to the campsite takes you directly past a multitude of flowers where all the cute birds (humming birds, quails, & more specific ones I can't name!) hang out. Add in a small bunny greeting me as I crawled out of the tent in the morning and I was (literally) a happy camper.
We spent the night at Environmental Site 3 – "Starfish" – which was located directly next to site 2. The fence between the two did make it seem more private, but I think the other sites were more private then these. On the plus side, sites 2 & 3 did boast some nice tree coverage, which was welcome on a rainy night.
It would probably be much more difficult to obtain a reservation in the summer months, but I think it is worth the side trip from Point Reyes or the Bay if you can manage to get a site here. Anyone want to visit me and go? More photos in the gallery below.