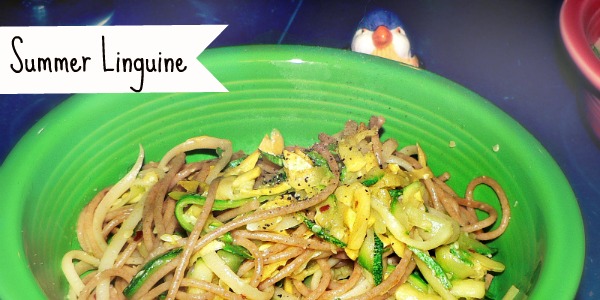 Summer Linguine – Cover to Cover Cooking
Summer Linguine is the first recipe in our Cover to Cover Cooking series, where Denise & Jacquie cook the entirety of Hedi Swanson's 'Super natural every day' and share their experiences.
Denise's Review: I got to pick out our first recipe. Meaning, I told Curtis that I wanted to use our the summer squash and zucchini in this recipe… which he kind of took over. I helped! Plus, it wasn't really that much different then the go to recipe I made the entire summer of 2008 when I was living by myself. Here let me share that with you:
Denise's generic recipe to cook everything in the summer of 2008
Ingredients: summer squash and zucchini, cooked healthy & cheap looking pasta, Parmesan cheese, pepper, fancy spices.

Chop vegetable, saute it with some garlic, and any other spices that make you feel fancy.
Add butter and Parmesan, until both melt.
Plate with pasta and pepper, take to TV to watch on Sundance on-demand while sitting in front of air conditioner.
Proceed to clean up, call Jacquie and my parents.
Ah, good times. Unless if Jacquie bitterly remembers that as the summer that I would not stop calling her. Sorry!
Jacquie's Review: My husband dan does not like squash. I was unaware of that fact when I married him. I'm a little bit bitter that he didn't  share the fact that he dislikes one of my favorite families of food until I was stuck with him for life, so sometimes I pretend to forget about his issues with squash. When Denise told me the Summer Linguine was her first choice, I promptly decided it was an occasion to 'forget'.
So I grated up the first zucchini  I have bought from the farmer's market (which felt weird…I've never grated a squash before), carefully watched my minced garlic swim about (I always burn it),  and made up some fettucini (dan likes wider pasta, and I hoped his joy in getting his way with the pasta would help break the news about the squash).
I put a little extra parmesan on Dan's plate to disguise the green squash bits and tried to convince myself he wouldn't notice. Well, that didn't work, but it turns out I shouldn't have worries. Grated squash is just fine with that boy. What?! I give up on understanding him. Happily, we'll definitely be making this one again.