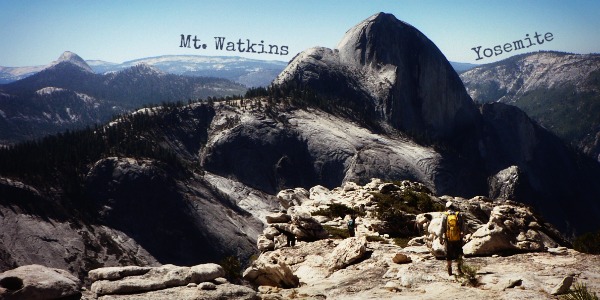 Day Hiking Mt. Watkins, Yosemite – Sweet Solace Off the Trail
Trailhead: Olmsted Point, off of Tioga Rd / Hwy 41
Distance: ~ 9 miles out and back. Trail is fairly level with just enough climb in the way out that you will appreciate gravity's help on the way back.
Another day hike without my (poor & sad) injured boyfriend Curtis, this time to Mt. Watkins with friends Pete and Christine. Between the 3 of us it seems as though we have hiked almost all the day hikes avalible within the park – except this one! But, To be fair, Mt Watkins requires a tiny bit off off trailing, so it should not count officaly towards the "Yosemite dayhikes" collect em' all count, right?
We started the hike from Olmsted Point, where – pro-tip here: – the trail sticks you right against the side of the road for a bit when you first start out. I'm going to blame our initial off trail romp on our subconscious preferring to not hike within viewing range of the highway, directing us instead down the granite faces towards the wilderness. Once wandering back onto the trail we headed down into a wooded stretch which eventually opened up into views of Tenaya Canyon.
From there the final "Off-trail" portion of the hike is fairly hard to miss, the path becoming obviously worn-in along some parts. We began off the trail after a short series of switchbacks, when it became apparent that we were on the Mt. Watkins ridge line. From there we hiked briefly over the "Peak," which is flat and doesn't provide much in the way of vistas, and down to a sweet little lunching spot on the edge of the mountain. From our precipice overlooking the valley were amazing views of Clouds Rest,  Half Dome ( & the cables), North Dome, and a few soaring birds of prey.
We did not meet anyone else on the top of Mt Watkins, very unlike Clouds Rest (to the north) or North Dome (to the south). Probably because Mt. Watkins is off the trail, not as a iconic, and doesn't provide that 100% granite face experience it is really a nice place to relax away from the crowds while enjoying many of the same views.