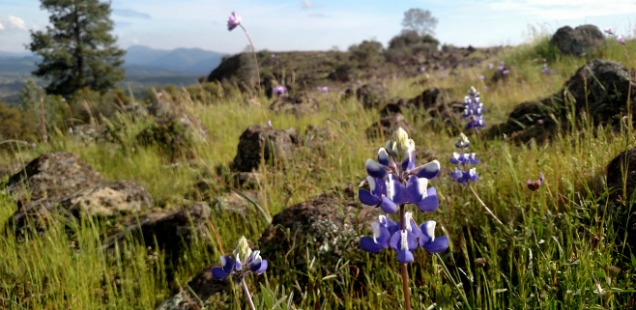 Table Mountain: It is a Wildflower Mountain!
It's wildflower time! Usually, if I'm looking for a quick local hike I will just hit up the Red Hills, because the Red Hills are kinda where it is at. Instead, this year Curtis and I decided hiking wildflower hills was just so pedestrian. Nope, we were headed to a WILDFLOWER MOUNTAIN.
Honestly, I think the Red Hills might have a greater flower diversity… but Table Mountain more than makes up for it in poison oak abundance. XD
Seriously though, it is an excellent hike and a short one. If you are up for a little afternoon adventure to check out some wildflowers and find some sweeping views of New Melones, then hurry! Wildflower season is almost over!
Table Mountain, Bureau of Reclamation – New Melones
Trailhead: From Highway 108/49 turn left onto Rawhide Rd at the stoplight in Jamestown. Continue down Rawhide for 2 miles until turning left onto Shell Road. Shell Road is a narrow rural road, which ends near the trailhead after about 1.5 miles. Good luck parking (AKA: try not to be a jerk and block a driveway). Map
Distance: 4 mile out and back hike. The first 1.25 miles is flat, then to the top is the 600 ft elevation gain to the top. The trail has it's pretty steep portions.  Table Mountain is very flat and table-like at the summit, perfect for further exploration. Map
After parking amongst the dozens of other hikers and climbers that descend on this area we passed though a small gate to hike in along the marked "Table Mountain" trail. Many other visitors instead choose to hike up the parallel ranch road. I don't believe the road is that much shorter, and the trail is a pleasant walk when the foothills are still green.
After a mile and a quarter the trail meets up again with the road, next to a closed latrine.  After this junction the trail begins the ascent up Table Mountain. Along the trail there are a couple of old mine shafts to provide brief distractions from the steeper sections of the trial. Local history buffs can inform you more about this aspect if you are interested.
Passing the mine shafts, you will now reach the steepest part of the trial. This is the part where you will probably, most definitely, touch some poison oak:
From grabbing onto it as a hand hold,
From moving over on the trail into a giant bush of it to let some family pass, or
From petting (accidently or on purpose) that loveable dog that is certainly COVERED in it.
It is a real situation, but persevere – because suddenly you will pop out at top, the Table Top! It is big area up here, so although there is often a lot of people about you won't all be on top of one another. Great spot for a snack, photo opt, or maybe a geocache ;)
More photos below: