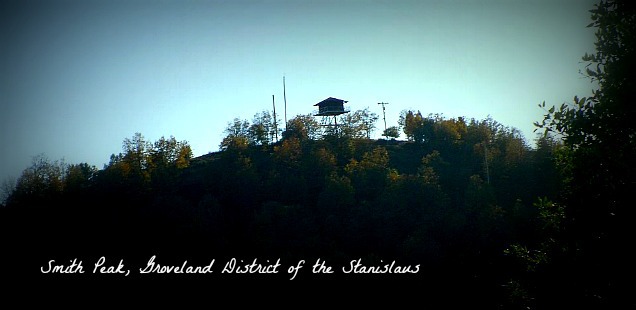 Take a Groveland Hike! – Smith Peak, Stanislaus
Did you know today is "Take a Hike Day"? Neither did I until Trails' Guide informed me! To celebrate I am posting about my favorite "local" Groveland hike – Smith Peak!
Smith Peak Fire Lookout, Stanislaus National Forest/Groveland, CA
Trailhead: I park at the Pines Campground then hike up to the peak along the dirt road. I think at certain times of year this road open to vehicles, but doesn't that defeat the point of "Take a Hike" day? Map
Distance: About 4 miles round trip? I will update this with more exact info the next time I hike it. It is an uphill hike, but over this distance it is never too steep.
This is my go to hike when I want to get some fresh air, but still want to stay home and be lazy all day. Located just next to the Groveland district Forest Service office it is 15 minute drive from the town of Groveland. All the pictures from this trip are actually from a trail run Curtis and I did in 2011, although I promise we have hiked it since then!
As you reach the top of Smith Peak the fire tower greets you. This is a new fire lookout that was constructed after the old one burned down in the 87 complex fire. There are a few weird things to check out up here, my favorite being the toilet seat without a structure, and of course some pretty sweet vistas of the foothills. The lookout is still stationed with a every summer season, but for now in the fall the upper level will be locked, There are still nice views of Smith Station meadows to be had from the ground, and always the opportunity to see some sheep grazing.
More photos from our 2011 trail run up to Smith Peak in the gallery below.