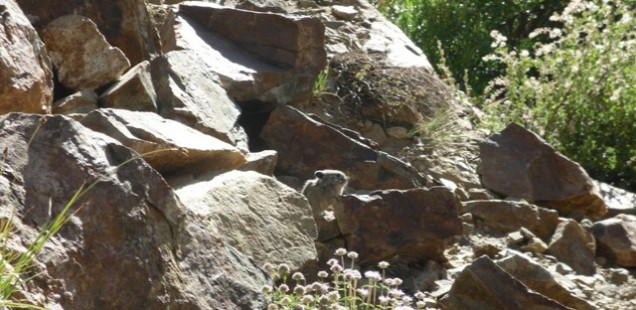 The Hills Are Alive with the Sound of Pikas… on Mono Pass!
Pikas are distant cousin of Basil and all bunnies, and occasionally are referred to the real life Pokemon Pikachu. No joke, I read it on the internet ;) And pikas are liable to become an (Word of the day!) endemic species with climate change, due to their highly specific  mountain sub-alpine scree environments and mortal distaste for warm environments.
These cute little threatened critters can be found throughout the park, but tips led Curtis and I on a backpacking trip up Mono Pass. Here we went out of Yosemite into the Inyo National forest and Ansel Adams Wilderness, along Lower sardine lake, to camp. Not that far of a trip, but with lots built in pika searching time. It was probable that I would die of a broken heart if we didn't see a pika.  Heart breakers those pikas…
DAY 1: We hiked past the pass, barely registering it in the lovely warm and windy afternoon. Curtis and I climbed up to a promising landing of rocks, and there sat waiting for the pikas to make themselves known… and sat… and slept… and ate lunch… and saw a CRAPTON of freaking ground squirrels and some items we decided we bunny poop… and gave up. Disappointed I looked past every corner hoping a pika would be there. I peered at every noise, searched the long mountains in the crisp air. Nothing.
Day 2: As I begin to accept fate, and tell Curtis I may yet enjoy the hike even if we don't see a pika, as lower sardine lake is very beautiful. Conversely though, I also insist we don't eat breakfast there and hike forward hoping if pikas are active in the morning hours that they maybe spotted along the hike.  When then, as the pikas smiled at me from above, right in front of us on this terrible rock cliff trail is a pika, staring us down and shouting a sharp note. We observe him, as he observed us, for a good minute or two. And as he runs away the empty rocky stream ditch near the trail becomes alive… alive with the sounds and movements of pikas. The photos do it no justice, they are freaking cute. With the changing wind, it becomes cold in the mountains, and we need to move on against the light snow. But I can hear pikas EVERYWHERE!
There are two pages of pictures for this trip, since we always had the camera ready we got a little carried away. And a pika video in there too! (page 2, with all the rock pictures are the  pika shots)