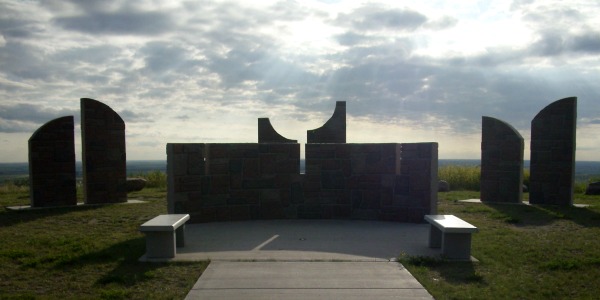 "Mystical Horizons" – The Stonehenge of the Prairie
I recently discovered the SF Gate's running series Tourist Trapped. The column's writer travels to the heavily tourist-ed destinations in the San Francisco area and reports back on the highs and lows. I am in love it. I want to take a weekend and go nuts eating Jelly Bellies and taking ghost tours with hundreds of other people in the Bay Area.
Tourist Trapped made me realize that a place like Mystical Horizons – located in an out of the way section of scenic highway in northern North Dakota – is not actually a good example of a tourist trap. Predominantly because there are just not that many tourists. Thinking back on it for today's #ThrowbackThursday blog I can't quite remember why I drove scenic North Dakota hwy 43 to get to the International Peace Garden from Minot. I must have been very bored of driving Hwy 2 for work all the time, making this round about route more appealing… Or it was a mystical happenstance! Probably the former?
Mystical Horizons, North Dakota
Directions: Off of Scenic Hwy 43, this could be a quick stop on the way to the International Peace Garden or Lake Metigoshe State Park . Map
Mystical Horizons was designed by an engineer to be the "21st Century Stonehenge." This means lots of poured concrete and masonry instead of massive boulders. Although, both do follow the assumption of sun and starts could provide a good piece of installation art.
Scientifically speaking Mystical Horizons is pretty interesting, and is a great way to brush up on some astrological and geographic principles (Astrological Geography?). There is the solar calendar, which would be interesting to see on a solstice versus a normal day, a simple solar dial, and the tube pointed for viewing of the north star. This blog post, written by the engineer of Mystical Horizons's son, goes into more detail about the technicalities.
Perhaps Mystical Horizons will never be a good "Tourist Trap" in the same way that Ghirardelli Square is in San Francisco. But for North Dakota, a state known for endless prairies and a group of people crazy enough to brave the winters, it makes sense. Who else would think to build the 21st Stonehenge just south of the Canadian Border?