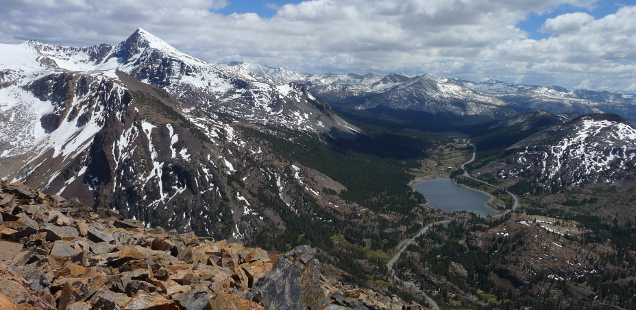 Tioga Peak, CA: A Little Hike for a Big Summit
Choosing the location of hikes is the start of my adventure. Zooming around on Google Earth, searching for maps, trying to predict weather… rarely do I ever just decide to hike down a random trail, I like to have a vision for my hike. Also, its a good idea so I don't get lost and or in over my head. Happy hiking moods turn sour pretty quickly when I can't make a destination because of some self-sabotage move.
So, the day after my triathlon I was feeling pretty good and Curtis agreed we should get out of the house since the rest of the month was looking pretty crazy… but I had just done a triathlon. An "Easy" hike was in store! But not a boring. Maybe something on the eastside?
I had mentally flagged Gardisky Lake, located just off of Tioga Pass Rd outside Yosemite as a short to do hike someday. But it was really short and only lead to a single small lake… that is when Tioga Peak serendipitously appeared on the topo map. Although there is no official trail to the summit the internet assured me it wasn't too bad, and worth it. Plan!
Hiking Tioga Peak and Gardisky Lake, Inyo National Forest
Trailhead: On Tioga Pass (Hwy 120) turn North onto Saddlebag Lake Rd,  located just east of the Tioga Pass Resort between Tioga &  Ellery Lakes. About 1.5 miles down the dirt road will be a big Forest Service sign for the Gardisky Lake Trailhead. Map
Distance: 4 miles to Tioga Peak and back? My GPS read 4.4 mi but we got distracted looking for pikas and also visiting the lake. The trail is very steep, and the hike up the use trail to the peak is even steeper. Elevation at summit: 11,526 ft. GPS Map
The steep Garditsky Lake trail quick to wake up the lungs, the trail starts at an elevation a few hundred feet below 10,000and quickly rises above. It is a nice little short trail though, with views of the Gardisky Creek and the Lee Vining Creek Canyon. We had a small dusting of snow on the summit of the mountains which always adds something.
At the top of the steepest part of the climb, a little less than a mile into the hike, the trail reaches a gentle hump and meadow-ed area. The brown volcanic rock of Tioga peak is now very obviously looming overhead here, head toward it's western ridge. Right as the ridge here becomes steep and all rocky a sneaky little use trail will appear. We followed this to the summit taking in the views of Gardisky Lake and the surrounding forest.
From the Peak top you can see amazing views down the Tioga road corridor and over to the White Mountains in the distance. This exposed peak does have a register at the summit carin, and plenty of space to explore, take pictures, and enjoy a windy lunch break.
Sadly Gardisky lake it was a bit too chilly for my first mountain lake swim of the summer (unless you count Pine Mountain Lake), plus there were some fisherman that I wouldn't want to upset.
Overall a beautiful quick summit. Sure Dana is a bigger, more noteworthy peak and right next door and, but from Tioga Peak you can actually see the splendor that is Mt Dana… and considering the snow on the summit when we went (June of a LOW snow year) Tioga Peak is probably a much safe option in early summer.  More photos below: