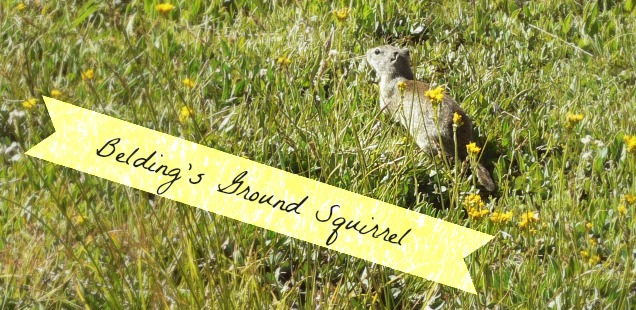 Tuolumne Meadows' Cutest Squirrel: The Belding's Ground Squirrel
This summer two of my good friends, Jane and Lin, came to visit for a couple days. We hit up the park, seeing the Yosemite sights in short bursts – The Mist Trail, Tuolumne Grove of Sequoias, and Tuolumne Meadows – which is a pretty solid variety! While we were hiking in Tuolumne Meadows I noticed these little guy pop up in grass… and I was baffled
My first thought: "We don't have prarie dogs in Tuolumne meadows!" – But as it turns out we do have the Belding's Ground Squirrel.
Belding's Ground Squirrels live in higher elevation meadows throughout Northern California and the Northwestern States. They are smaller than most traditional ground squirrels, and because of their habitat have a very long hibernation period to cope with the cold. This hibernation adaptation gives the squirrels a competitive edge in their habitat, meaning that you might see these guys in places that a normal ground squirrel would not thrive.
Sadly some studies say that the Belding's Squirrel is faring worse than my beloved Pikas when it comes to global warming and the accompanying shifts in precipitation/temperatures in California . They are more widespread, easier to spot, and are consequently an easy prey for many high elevation predators.
I for one hope the populations of the Belding's Ground Squirrels equalize, both for the ecosystem and because I just learned about these cute little guys! I'm pulling for you!