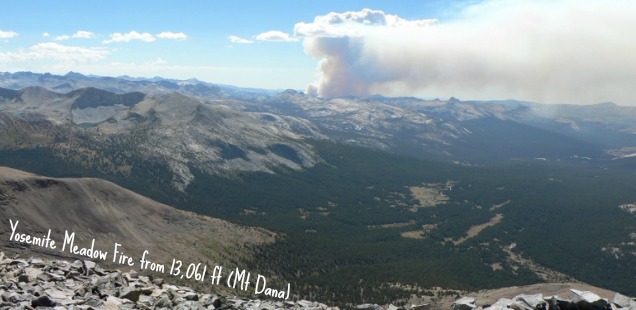 Watching a Fire: Yosemite Meadow Fire
On Sunday I was hiking up Mt. Dana with Curtis, having drove across Tioga Pass in the morning hours to get a reasonably early start. Driving past we might have chatted about the Dark Hole fire – a small lighting fire that has been smoldering for a while near Porcupine Flat. I love that the fire is named after an odd place listed on the topographic map (an old stagecoach area I think), and I can't help but giggle at the name 'Dark Hole' –  I might need to find an excuse to visit someday.
Latter that day, as we slowly worked our way up the mountain, our fascination turned to a different fire – the Yosemite Meadow Fire that was rapidly growing from a 19 acre lighting fire* to 400 acre fire by the time we hiked back down. Currently it is at 4400+ acres. *Or that is what park officials currently belive, the SFGate has a good description of what might have went down here.
Wildfire have this beautiful dangerous appeal, pouring smoke over the landscape like a massive bonfire, that despite their obvious troublesome consequences make them a wonder to look at. 85 people were airlifted out the backcountry that day, many more evacuated from the popular Half Dome, Little Yosemite Valley, and Sunrise Lakes area. Luckily no one was injured, and luckily for us we were well away from the fire and the smoke on our perch atop Mt Dana.
Some scientist might sat that our interest in fire probably goes back to early mankind, as we evolved into animals who cook our foods over an open flame and used the heats to survive colder climates. Personally I think from living in the community near the 2013 Rim Fire that wildfires has become part of the group conciseness, so much to that we talk about it like the weather – the much more interesting weather. As much as we prepare our defensible space we can't control that beast entirely, and how can you not be curious about that?
More photos of the fire as seen from Mt Dana in the gallery below. Hike report about that beast of a hike will be up in the near future!
Because of the natural benefits of small fires Yosemite does not put out these small lightning fires when they first ignite, but now that it has grown at an unpredictable rate they have begun fighting the fire at full speed. Yes many trails are now closed, please (as always) check the current Yosemite conditions before heading out on any of the backpacking or day hikes I have listed on my blog. Additionally smoke may affect the enjoy-ability of areas that are not closed, and I hope hikers will use this as an opportunity to visit other areas wonderful areas of the park and surrounding forests.