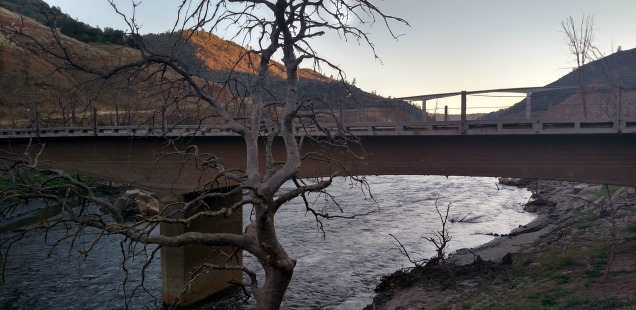 When Underwater Bridges Emerge: Old Parrotts Ferry Rd
It is raining tonight in the foothills… as it should be in March! Hopefully soon the Sierra snowpack will grow a bit, the reservoir levels will raise, and perhaps the groundwater will be replenished (if only a little bit). I am happy for the rain, but it also means that the place I chose for today's blog post – the old Parrots Ferry bridge – might be once again become submerged beneath the New Melones reservoir. I bet if you run quick you could still catch a glimpse, lurking beneath the reservoir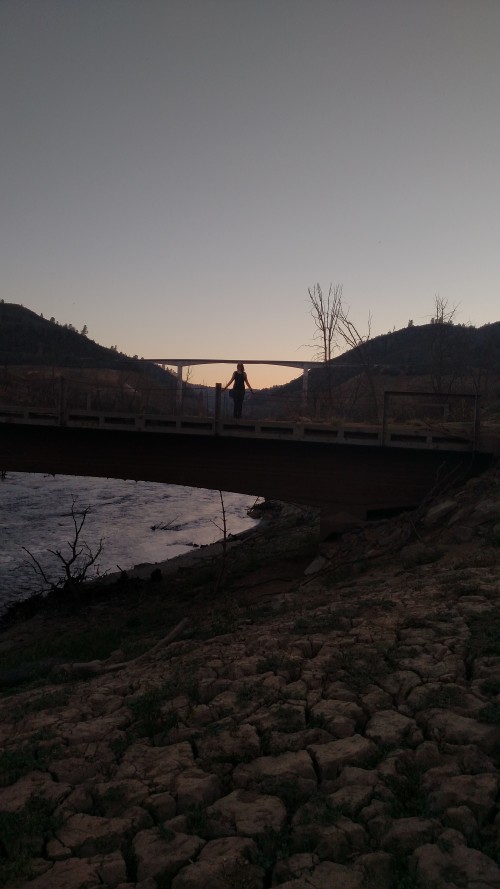 Old Parrots Bridge Hike, Melones Reservoir
"Trailhead": Take Highway 49 to Parrotts Ferry Rd, passing through the historic town of Columbia, and travel down to the Stanislaus River canyon. There are a number of pullouts, but the one you will want to be at will be about a mile up the road from the bridge  on the Tuolumne County side. The pullout is fairly large with a paved road blocked by a white gate. Map.
Distance: Approximately 2 miles round trip, if you are able and daring enough to walk across and explore the area surrounding the bridge. 300 ft elevation change from parking lot to the bridge level.
Like the other historic locations I have been able to visit around the Melones reservoir, the Parrotts Ferry Bridge was completely changed in the 1970s when the reservoir was raised in order to increase the water storage capacity for the Oakdale and South San Joaquin Irrigation districts. The original bridge, the one that has emerged during the 2015 drought, had crossed the Stanislaus river. What was then a river is now normally a narrow finger of the reservoir.
Walking down to the bridge in October we met a family of Stanislaus loving rafters who had just finished a run down the rapids that have emerged from this river along with the old bridge. It looked like a tough haul, they had some crazy stories about getting caught in the muck, but overall very rewarding. It is nice to hear that these well loved whitewater rapids had once again seen the light of day.
On reaching the the old bridge you can bask in the relative ENORMITY of the new Parrotts Ferry bridge. It was similar to when we visited the old townsite of Malones, looking up the Highway 49 bridge, but this time we were standing in the dead middle of the river… which is both impressive, alarming, and very weird.
As I have noted in previous posts, the 70s wasn't that long ago… so it isn't altogether that impressive that this bridge is still standing.  But still, with the accelerated aging from being submerged it feels impressive to stand on this abandoned structure.
Also, it is a little humorous to think that this bridge, which was built thinking it would be a method from crossing above water, was then promptly drowned out for a bigger engineering project. C'est la vie… and at least we are now getting some rain! Sorry little bridge, it was nice meeting you, briefly.