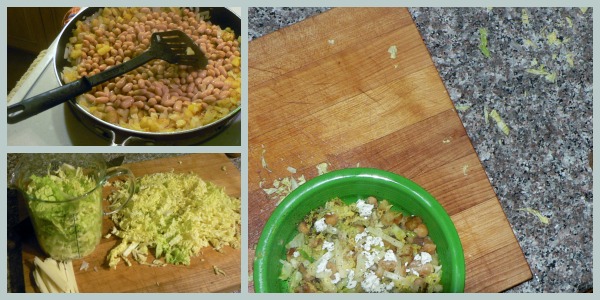 White Beans and Cabbage – Cover to Cover Cooking
This White Beans and Cabbage recipe  review is a part of our Cover to Cover Cooking series, where Denise & Jacquie cook the entirety of Hedi Swanson's 'Super natural every day' and share their experiences.
The recipe is available online at SteamyKitchen.com
Denise's Review:
Some nights, I cook white beans and cabbage
some nights, I make handsoap
some nights, I hallucinate soapy smells on the burner
some nights, I use every pan I own.
I know, terrible.
Okay, so really. I made some hand soap the afternoon before I made this recipe  and then – after washing! – started using the same pot to make this recipe. Curtis and I were doubling it since we had gotten SO MUCH cabbage from a friend's CSA box, thus why I thought we needed to use the largest pot we own… And then it started smelled kinda soapy!!!
(I think what actually happened was I did a questionable rinse on the bottom of the pot, and since that is what touches the burner it immediately started smelling like soap.)
Quickly, I changed into our second largest pot, which then Curtis promptly objected to, because it has a small burner surface area – how will our beans brown?!  I then proceeded to dump the mixture into the largest skillet we own… and you know what, it kinda fit! And good thing too, because browning the beans (we used one can chickpea and one can cannelloni) it really what makes this recipe. Without the little "caramelized" bits it would be rather bland, but with the cooked bits I liked the recipe, and it seemed pretty easy (if I didn't use every pan I owned) & healthy.  Winner?
Jacquie's Review:
Loser.
Big time.

Nothing brown, caramelized, or tasty there!
 Although, I fully admit it is partly my own fault. As I reviewed my photographs and the recipe to write this, I quickly realized that I had skipped over the bean browning step. Nothing brown about them. nonetheless, I imagine even with some nice caramelization going on this would still not be on par with the other delicious recipes we've made so far. It was not even just 'rather bland' it was terribly bland. Potatoes, beans…. it is a lot of mushy texture and it seems so out of place with the cabbage (which still seemed awfully raw well after the minute Heidi recommended to wilt it a little). For me, this dish was wholly unappetizing. I'm fairly sure even Dan only ate half his plate, which is extremely unusual.

On the bright side there was no fear of soap contamination!