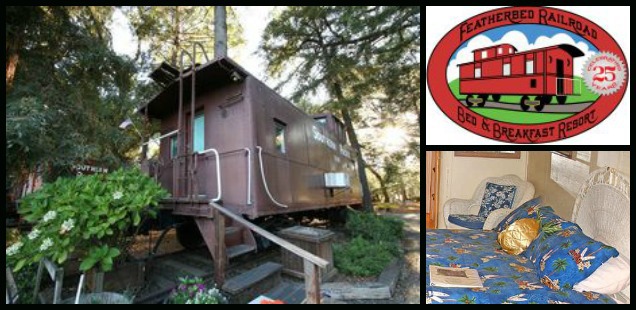 Window Shopping a Railroad "Escape"
Occasionally I go though online shopping phases, ones where I check out Steep and Cheap everyday or go crazy buying pet toys  get my Petco order of bunnyfood order with free shipping. And Kickstarter is like buying into someone's dream so that is always a fun time… Recently though, because I don't have any Thanksgiving weekend "plans" yet I have been endlessly scrolling through the discount hotels on Groupon and LivingSocial trying to find something awesome.
Only everything sounds awesome: Can I go to San Francisco, Napa, AND Monterey?
Only, just now I found the be all, end all random deal hotels: It's a stationary sleeper caboose b&b. YES.
The Featherbed Railroad is located in Nice, a little town Northwest of Sacramento, and has a caboose themed as "TropiCaboose". Tell me that isn't the best thing you have heard all day?
I am pretty much sold on the idea, even though I might have never heard of Nice before. Now how to talk Curtis into it? But really, how hard could it be to talk him into this Easy Rider Jacuzzi Caboose?


Cover image pictures from the Featherbed Railroad's Pinterest page & Living Social deal – since I I haven't been there yet!