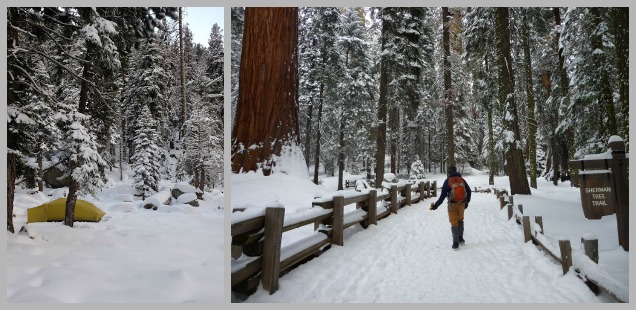 Winter Camping in Sequoia National Park
This year Curtis and I made our thanksgiving feast in a dutch oven, over a campfire, surrounded by snow, in Sequoia National Park.
Last summer we bought the 'America the Beautiful' all national parks annual pass, instead of the plain old Yosemite annual pass. Yosemite had upped their fees for the annual pass, so it was only a $20 difference – and great motivation to visit a laundry list of the national parks nearby! At the top of that list was Sequoia National Park.
Planning a trip to National Parks and other destination in the winter can be tricky. Campgrounds and lodging options are often closed, roads closed until spring, chains required, and many classic summertime trails become obscured or dangerously avalanche prone. But, if you persevere you end up seeing a stunning snowy version of the parks when they are less busy and more personal.
If you can handle the cold, of course! ;)
Winter Camping in Sequoia National Park, Thanksgiving 2015
Location: Lodgepole Campground. Map
In the summer the Lodgepole Campground has 214 drive up and walk-in campsites. In the late fall the park allows the campground to become snowed in, only plowing a large parking area near the nature center and restrooms. There were about 40 open campsites when we arrived – all of which required a bit of tromping through the snow to get to. This year the campground closed for the winter on the Sunday after Thanksgiving in 2015, which fit our planned trip perfectly. Campground closing dates are subject to whatever the Park Service decides, and lucky for us this winter was one of the latter closing dates in recent history.
Camping at Lodgepole was a nice snow camping trial trip. Last year I took a snow camping class last year to learn the basics, but Curtis has only (to my knowledge) gone on unintentional snow camping trips. At Lodgepole we could sleep in the cold (it was consistently in the teens at night) – but with the comfort of a nearby heated bathroom, running water, and a heated car. Equipped with our snow preparedness knowledge we were even able help out other #optoutside campers (who maybe should have taken a snow camping class) by sharing shovels and our nicely sintered down trail to the bathroom.
But onto the important info… How was Thanksgiving Dinner?
Beaut-Tree Recipe a Dutch Oven Thanksgiving in Snow Camp.

Pre-made Tofu-turkey (I used the Field Roast this year) & coconut oil
Onions, celery, broth & boxed stuffing
Can green beans, can mushroom soup, tiny soy sauce packet & fried onions
Instant potatoes & mushroom gravy

Like a backcountry meal on steroids, I used all of the pre-made/instant/processed thanksgiving type ingredients to make the easiest version of tofurky, stuffing, green bean casserole, and mashed potatoes for our snow camp feast.  Simply eyeball the amount of ingredients you think you need to rehydrate/compose your meal, but then add some more to make it extra soupy. Since the potatoes, stuffing, and green beans will be in the pot longer than normal as the main entree cooks, these items will lose some hydration. Place all the food into quadrants in the dutch oven and throw the whole thing on the campfire. It is done enough when the tofurky is cooked through.

Protip: Use the coconut oil very liberally (it is cold, you will want those calories while snowshoeing tomorrow) or maybe try a foil liner?

The feast didn't look very pretty,  but it was still delicious! And, in the spirit of Thanksgiving, there was way too much food. I didn't even open the can of cranberries, because TOO MUCH FOOD.
Thanksgiving Trip to General Sherman, Sequoia National Park
Parking: Wolverton Snow Play Area. Map
Distance: Less than a mile; could be made longer by visiting the surrounding viewpoints and trails. It was a very short walk, but the icy trail adds a danger factor… take it slow and be prepared to stumble!
During the Thanksgiving holiday the park was busier than it would have been on a normal winter weekend – but there was a big perk to arriving on the holiday: The free General Sherman shuttle.
The General Sherman Sequoia is the largest tree on earth. It is also the largest crowd draw in Sequoia National Park.
During the winter the summer parking lot for visiting the General Sherman tree is not plowed. Signs point you to instead park at the Wolverton snow play area. It is a 1.5 miles walk/snowshoe/ski out to the Sherman Tree from there if you follow the Old Lodgepole Road Ski Trail. Otherwise you could approach the tree from the visitors center, or are able to park closer if handicap designated.
If you arrive on a holiday weekends though, I would suggest the free shuttle. After a nice long snowshoe during the morning we took the warm shuttle bus over to the General Sherman. Without having to worry about getting back before dark I was able to relax and enjoy this magnificent tree. Thanks shuttle!
Coming soon: Snowshoe hike reports to Morro Rock and Tokopah Falls Trail. More pictures down below.