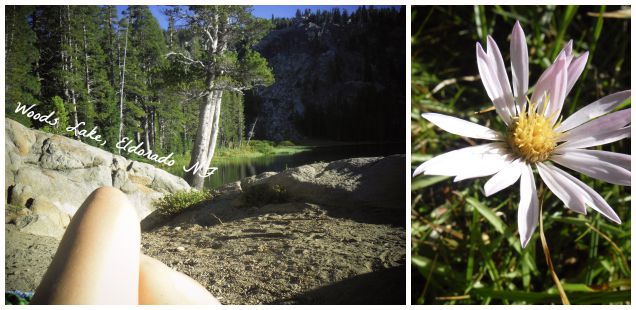 Woods Lake, Eldorado National Forest: a Peaceful Little Retreat
Before hiking to Lake Winnemucca I had found & reserved a campsite at the Woods Lake Campground. The campground was a nice find because not conducive to RV camping, meaning it was instead filled with peaceful tent and pop-up tent campers. The water was turned off because of the drought, but I believe the camp hosts had extra gallon of water ready for those who were unprepared. ($24 per night, more info here)
Arrived back at camp earlier than expected from my hike, I had time to go explore Woods Lake – just across the way from the campground. Like most small lakes it has a use path, complete with adorable trail signs, leading around the border of the lake.
After my hike I changed into my very non-hiker like outfit of a swimsuit, skirt, and Teva flip flops and commenced on a lazy walk around the lake. Under the last rays of the the setting sun I found a spot to enjoy my book, wine, and the distant conversations of the fisherman floating in the lake.
Would recommend. Let's do it again soon, Woods Lake?
Trailhead: Repeating this from the Woods Lake Trailhead blog – I arrived from the east on Highway 88, passing the Forest Service visitors center and very busy parking lot that is the primary access for Winnemucca Lake from the PCT. Turn left towards Woods Lake after a little less than 3 miles further down the road. There is a large Forest Service sign. Follow the road to it's end (fee) – or I continued into the campground to snag a spot. Map
Distance: A little less then a mile all the way around the lake? Little elevation change.