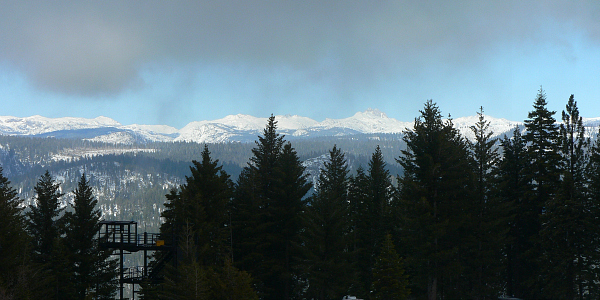 Yosemite Snowshoeing: Crane Flat Fire Lookout
Winter is almost over! Or, at least it seems that way since daylight saving time and 60 degree weather has started here in Groveland. But, since it did rain last week Curtis and I were able to Yosemite snowshoeing one more time this weekend. We ended up picking a classic, the Crane Flat Fire Lookout. We have cross country skied up to the lookout before, but I could return to again and again without tire because of the beautiful snowy Sierra views it provides.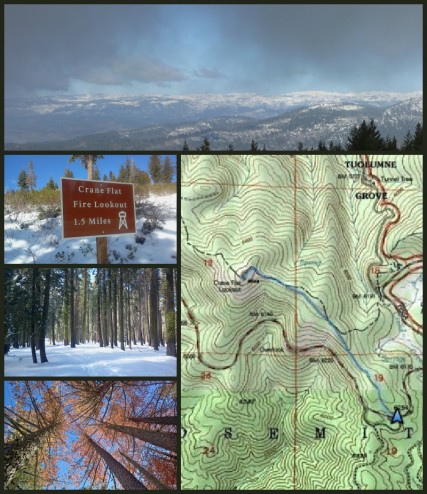 Crane Flat Fire Lookout, Yosemite Snowshoeing
Trailhead: From the Hwy 120/Big Oak Flat Yosemite entrance station follow the road  about 7 miles to 2 pullouts (both sides of the road) marked for Crane Flat lookout to the north, and the South Landing Trail on the South. These will be after you pass Merced Grove Trail, but before the Crane Flat campground snowplay area.
Distance: 3 miles, we traveled off trail to make some snow-bunnies (as opposed to snowmen) so my GPS read 3.4 miles
This trail is an out and back up the paved Crane Flat Fire Lookout road, with an easy but constant uphill on the out and downhill on the way back. When we cross country skied the trail last year I remember thinking that there were only a few steeper spots where my not-so expert skiing self felt nervous about falling down, at the beginning of the trail and at the very end where you reach the lookout. Traveling the trail itself is pretty, with some nice views from between the trees, but the real scenery doesn't come until you reach the top.
Once at the top of the trail you are allowed to carefully climb the snow covered steps to the second floor lookout deck. As we were coming up the clouds had started rolling in, allowing for only a few quick snapshots before the mountains were covered. I wonder if it would be better to arrive earlier in the day to avoid the clouds, or if that is just luck of the weather?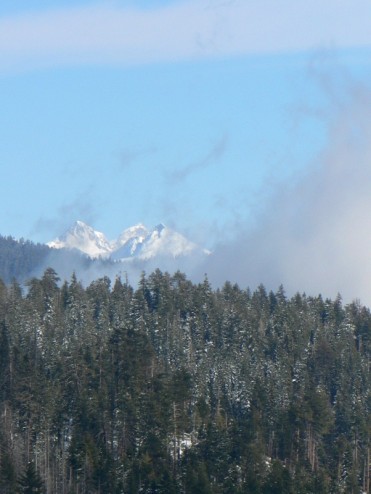 One of the reasons why I love this returning to this trail over and over again is because it is such a beautiful view, and one which is not typically traveled (or advertised as a destination) in the summer hiking season. The fire lookout is used in professional capacity the summer, especially if there is a local fire in the Park or on the surrounding forests. Curtis once road a Helicopter into this fire lookout assessing damage (he works with the Forest Service) of a local fire on the Sierra National Forest, which is pretty cool.
Find out more about Snowshoeing Yosemite's Crane Flat area in the official brochure, which includes a nice map of the area you can print off. Or, check out more pictures from the Crane Flat Fire Lookout are below.