Beaut-Tree is an adventure blog updated by current Sierra Nevada resident, but Michigander at heart, Denise.  I started updating Beaut-Tree late 2010 as medium to help log my travels as I moved from my college home in Houghton, Michigan to current home in Groveland, California. Along the way Beaut-Tree has transformed into a hiking and backpacking blog, thanks to Yosemite National Park being my backyard, with the occasional adventure into the big city or my natural (and vegetarian) food kitchen.
About the Name Beaut-Tree
The name "Beaut-Tree" comes from a play on the word beauty – because I personally find the most beautiful things in life come from nature. I hope that this blog helps me to share the beauty I have found in the outdoors, and perhaps inspire you to find your own adventure!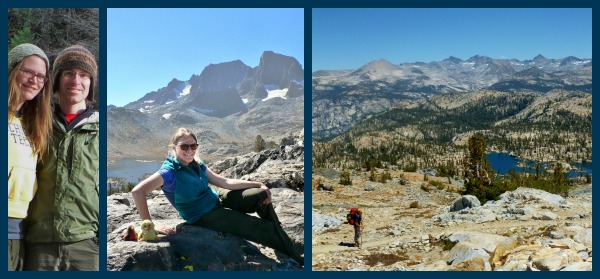 About Denise
A graduate of Michigan Tech's environmental engineering program, starting off my post-college life in California with my pet bunny, Basil, cat, Herman, and boyfriend, Curtis. My background in environmental engineering and history working with environmental regulations and conservation have given me the ability to  appreciate the balance time in the backcountry can provide to our busy lives. Things most likely to cheer me up no matter how sore I am include: A leisurely morning coffee with a wonderful view, pika sightings, a sandy beach, dry feet after a snowy trail, my sassy bunny (Basil!), and cold can of KBC. Dreams and goals include finding my dream job, running a barefoot 5K to improve my form, building my own woodland/eco themed mini-golf course, and seeking sustainability.
About Jacquie:
A graduate of Michigan Tech's civil engineering program, she currently resides in Wisconsin, with her Husband, Dan, and has agreed to blog with Denise about cooking. Jacquie is also in the process of finding her dream job, will someday own a 2 cats (one named Spock, the other something undetermined but decidedly more dignified), and is one of the most under-discovered flutists, painters, and artisans of all trades in the Milwaukee area.

About Basil?
Basil was adopted in the fall of 2008 from the Michigan Humane Society. He is an independent bunny, with a small case of the snuffles. Prior adopting him, he hopped into my lap and sneezed, which then made the humane society lady look like she was going take him away and put him down. Basil was promptly adopted. Basil's dreams and goals include eating all my things, having a an endless supply of yogurt treats, and getting more subscribers to his twitter feed (http://twitter.com/basilthebunny).