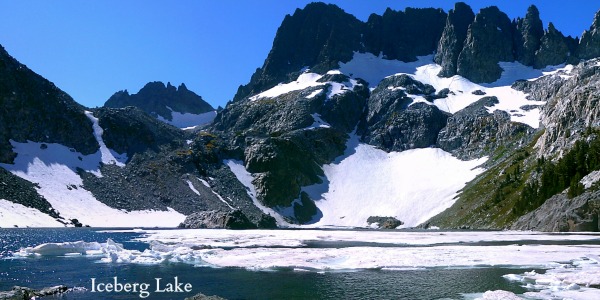 Backpacking Ediza, Iceberg, and Rosalie Lake in Ansel Adams Wilderness
Another #ThrowbackThursday blog post here, this one documenting a backpacking trip I did with a few of our friends (Tom, Johanna, Pete, and of course Curtis) back in 2011. It was a two night backpack into the Ansel Adams wilderness, my first time traveling in from the Agnew Meadows Trailhead.
This was the last trip with my tiny little "first" backpack, a pack that could only fit a bear canister after much persuasion. Although completely impractical for any trip in bear country, my first little orange backpack had some fond memories – Buying it in a adrenaline rush from Steep and Cheap for $30 in Houghton's Cyberia Cafe, my first backpacking trip in Wyoming, & meeting pikas on my first California backpacking trip. But, because I had to strap both my sleeping pad and mat to the backpack – which created a situation anytime I put my pack down – I was quickly becoming jealous of everyone's "Real Backpacks." Thus this was the trip that committed me to buying the Osprey, and more importantly doing more backpacking! Plus I found a sweet deal, even if I had to wait until the next summer to try the sucker out.
Backpacking Ediza, Iceberg, and Rosalie Lakes
Trailhead: Agnew Meadows. Consequently this was the first time I learned that this trailhead requires you to enter through the Devils Postpile entrance station & pay… Even though I have still never seen Devils Postpile (sounds too ominous for my tastes?). Map
Distance: 6.5-sh the first day from trailhead to Ediza Lake camp spot.  5.5 miles day two to Rosalie Lake, including a 2 mile side trip to Iceberg lake and back.  5 miles on day three back to trailhead. (Note that these are based off of Google earth so I am probably underestimating, it has been a long time.)
I honestly had no part in planning this trip, I just showed up for the ride. The original idea I believe was to do a loop up from Ediza Lake to Cecile Lake, then off trail it to Minarets lake and loop around to Rosalie and head back down. But this was October and the first snow storm had already passed through. The helpful wilderness permit issuers in Mammoth said we would need crampons to complete the loop, and needless to say none of us packed our crampons. Or, you know, owned any crampons… what are we Mount Everest expeditioners? Instead we hiked a couple of out and backs, camping at Ediza Lake and Rosalie Lake and day hiking to Iceberg.
Starting out the trail is longish – but nice jaunt down hill and over a flat area. After Curtis and I re-hiked this part of the journey with his brother Curtis remarked that he had forgotten how long this stretch was. What really sticks with you is the climb up to Shadow lake, where you can look out on the picturesque Mammoth Lakes area – and start to contemplate what elevation you must be at to make your lungs feel like this.
The group ended up camping on the East side of Ediza Lake, with great views of the Minarets. There was also little cover here, and no campfires allowed at that elevation by Ediza, so I specifically remember the group trying to chat but deciding to instead go to our sleeping bags.
The next day we took stowed our packs down at Ediza to take a quick jaunt up to Iceberg lake to have a look at our original trip trail. It was a quick jaunt because we now did not have are packs to slow us down :D
The side trip up to Iceberg lake is really worth the climb. It has icebergs! Or at least floating snow sheets. And, from here we could see that the trail we had wanted to hike on did have a sloped snow field – which one misstep could have dumped any of us into the frigid lake. Personally I was glad we choose not to risk it.
Picking up the packs again we backtracked to Shadow Lake, and began the HUNDREDS (or, few dozen) of switchbacks to Rosalie Lake. Rosalie is a nice lake, one that was much warmer at night and which allowed us to have a small campfire. Not quite as picturesque as Ediza, but with it's perks.
Overall this trip had some nice short days of hiking leaving time to take our time, which is nice sometimes. Especially with friends. Although I wouldn't mind doing that loop someday, without the snowfield and crampons of course.